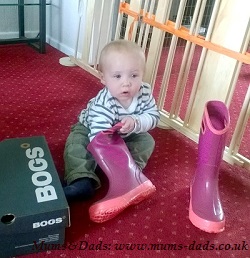 Having been offered the chance to try out some BOGS rain boots, I made my way to their website with a large amount of excitement, fuelled by the prospect of picking out any pattern that I wanted. My inner child has clearly never left me. And after looking at available women's sizes I realised that my inner child was going to end up satisfied in more ways than one, as the smallest size available was a 6. I am not a 6, to put it mildly. Remaining undeterred, I proceeded instead to the children's section. Forget boring green wellies, BOGS come instead in a wide range of patterns and colours, fun for children and classy for ladies and gents.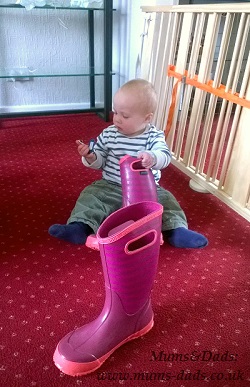 The main USP of BOGS rain boots is the handles at the top, designed to make pulling them on and off easier, especially for children. These work a treat, making the difficult task of sliding wellies on over jeans the work of a moment. The handles are also, as my kids pointed out, a great bonus, as they let you carry the boots around if you want to swap them for other shoes, and you can even hang them up on a coat peg to give your hall some added flair!
As soon as my cheeky neon pink boots arrived my inner child demanded that I drop everything and immediately take them out for a little stroll, preferably through some puddles. BOGS boots turned out to be a very comfortable wear, being in my experience true to their size. They are also softer on the foot and considerably more flexible than most wellies. Despite my best efforts no amount of splashing through baby rivers caused a leak, although my kids did find out the hard way that if they waded in far enough water would pour in through the handles.
So let both your child and your inner child out into the puddles in style, and watch this space for an upcoming M&D competition which might make you the lucky winner of 2 pairs of BOGS, one for you and one for your kid!If you can't wait or don't believe in luck visit www.bogsfootwear.com and treat yourself right now.