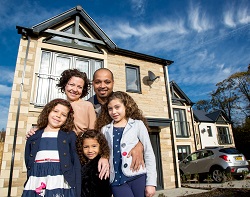 Help to Buy, the UK government's flagship housing scheme has helped almost 90,000 people to buy a new home, the latest figures show.
Although the scheme can be used by first time buyers, growing families looking to relocate or upsize can use this scheme to their advantage. So, is Help to Buy right for you? We look at the different options available to help you buy your dream property.
Help to Buy is the umbrella term given to all the different ways you can get on or move up the property ladder with government assistance. Some of the options available are Help to Buy Equity Loan and Mortgage Guarantee, Shared Ownership and OPSO (Older Person's Shared Ownership).
Each have their own benefits and are catered for the different types of house buyer. For growing families, the Help to Buy Equity Loan and Mortgage Guarantee could be a great platform to aid your house move, especially if you can afford monthly mortgage payments but not big deposits.
If you're looking to relocate to a new-build home, the Equity Loan scheme could be for you. Through the scheme the Government lends you up to 20% of the cost of your new-build home, so you'll only need a 5% cash deposit and a 75% mortgage to make up the rest. The loan is separate from the mortgage and interest free for five years. This combined deposit of 25% means that you are in a better position to secure a wider range of mortgages with lower monthly payments.
Alternatively, if you're looking to move in to an existing property on the market, the Mortgage Guarantee scheme is available on all properties priced up to £600,000. This mortgage scheme works exactly the same way as any other mortgage, except under Help to Buy, the government offers lenders the option to purchase a guarantee on mortgage loans. You will still be fully responsible for your mortgage repayments, so if you have a 5% deposit, you will need to take out and pay back a 95% mortgage.
Since its inception in 2013, Help to Buy has helped tens of thousands of people onto the housing ladder and has gave an all-important helping hand to those 'second steppers' looking to progress in to a bigger home for their growing families.
If you would like to find out more, the
free Help to Buy Show at Manchester Central on March 28th
will provide a unique opportunity for hopeful buyers to find out about the affordable home ownership schemes across the region, all under one roof. To download your free ticket, visit:
www.helptobuyshow.com