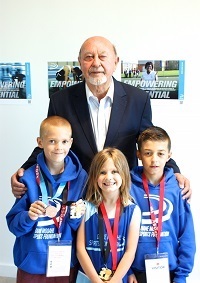 Diane Modahl'S Class Of 2015 Graduation Ceremony Leaves Manchester Filled With Sporting Pride
It was a proud day for all involved with the Diane Modahl Sports Foundation (DMSF) this week, as the charity's annual graduation ceremony was hosted at Manchester-based UK Fast's Birley Fields venue. There, a number of young people from more than 10 Manchester schools were awarded for their academic and sporting efforts.
UK Fast is a major sponsor of DMSF and played host to an afternoon of music, entertainment and most importantly celebrating Manchester's youth. More than 120 guests including Olympic stars, International coaches, volunteers, sponsors, parents, carers, Lord Tom Pendry, Terry Angus of the Professional Footballers Association and most importantly the DMSF youngsters themselves witnessed the event.
Proceedings were opened by UK Fast CEO Lawrence Jones MBE who spoke about the characteristics of excellence, determination, resilience and discipline and of the great importance of the work done by the charity. His director Jonathan Bowers then presented awards including one to former Wright Robinson School student Aimee Pratt 17 from Stockport, who was crowned athlete of the year at the event.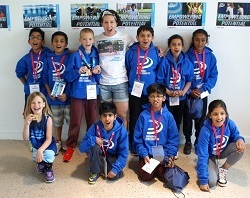 Diane Modahl herself offered words of appreciation to all in attendance and said: "I would like to thank all the team for making the Graduation so successful.
"The DMSF and UKFast team delivered an inspiring event and I also offer thanks to Lord Thomas Pendry who spoke about the power sport has in changing people's lives. This, I am honored to see daily in the youngsters we coach, and I'm truly in awe of the determination – often in adversity – and ambition of our future sporting stars."
The DMSF is now delivering a combined sports and education programme across 10 schools in Greater Manchester – with more set to join this year thanks to generous donations by businesses, Trusts and individuals across the City.
Diane concluded: "We witnessed so many success stories – from sporting talents to remarkable improvements in focus and commitment both in and out of school, and we celebrated our committed volunteers who chaperone and support our students week in week out – who we could not succeed without. The Graduation was an opportunity to not only celebrate where we are, but where we are going. We're changing lives. Well done team!"