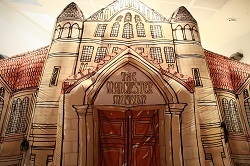 This April Manchester Museum (part of The University of Manchester) launches the UK's first Inflatable Museum which will bring the museum experience to school halls all over Greater Manchester. Developed in partnership with stage designers and sound artists, this inflatable copy of Manchester Museum incorporates a performance area, exploratory activity spaces, and high quality projection and audio equipment.
Beginning with pupils from five partner primary schools based in local Longsight, Levenshulme and Crumpsall, the Inflatable Museum project will deliver workshops in school halls across Greater Manchester. It will recreate the sense of wonder the Museum naturally conjures, assisting in extending children's classroom learning.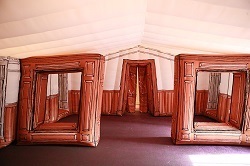 Transportable in the Museum van and inflatable in less in 30 minutes, the Inflatable Museum is a dynamic space capable of accommodating a full class, and designed with ultimate flexibility in mind. Incorporating moveable 'cabinets', a large, open presentation area, and HD projection equipment, the Inflatable Museum's adaptability reflects the diversity of Manchester Museum's work, and represents the ideal environment in which to safely handle real objects and specimens from the collection.
The Inflatable Museum is launching in Albert Square, today, Wednesday 13 April, from 8am to 6pm, outside Manchester Town Hall. This Manchester landmark was chosen as it is designed by the renowned architect Sir Alfred Waterhouse, who also developed plans for Manchester Museum in 1890.
Menaka Munro, Learning Manager at Manchester Museum, said, 'The Inflatable Manchester Museum is a wonderfully inspiring space to be in, but recreating its unique atmosphere for the classroom has always been a challenge. By inflating a replica of our beautiful Victorian building in school halls across Greater Manchester, we hope to transform children's everyday learning environments into exciting, playful spaces where they can encounter real Museum objects and create memorable experiences.'
Emma Martin, Stanley Grove Primary School, said, 'We just can't wait to experience the Inflatable Museum! Some of our families are put off going to museums or galleries. This can be because of transport costs, not knowing what there is to see, but also feeling intimidated by grand old buildings. By bringing the inflatable out to us, it will stimulate curiosity and build a bridge between our community and Manchester Museum. What a fantastic idea!'