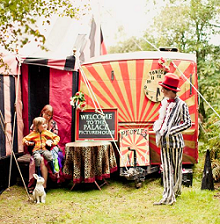 With just 1 month to go to the 3rd 'Just So Festival' the organisers have announced that they are close to selling out. The award-winning weekend family camping festival has this year moved site to Rode Hall in Cheshire and thanks to the impact it has made on previous attendees and vocal support, is set to be a sell-out despite the recent poor weather and all of the other cultural events happening this summer.
The organisers of Just So, which will welcome thousands of families for a weekend of creative adventures, say they are overwhelmed by how great the support for the festival has been in a year when many other festival and events have cancelled due to poor ticket sales.
Co-director Rowan Hoban said, "We try to programme a festival which will inspire families, we want to take them out of their day to day lives and into a wonderland of creativity, with incredible art instillations, fantastical theatre and really great music – that so many families want to join us is absolutely brilliant. We can't wait for our third festival to get started we know it's going to be the biggest and best yet."
'Just So Festival' has established itself on the festival circuit in a very short space of time as being the ultimate family festival achieving accolades from amongst others The Guardian, The Times, Cool Camping and Green Parent Magazine who awarded it Best Family Festival 2011.
Sarah Bird (Co-Director) said, 'Great family festivals can be marvellous, inspiring places, we aim to create an incredible atmospheres with a wonderful community of like-minded people who love music, literature, art and theatre and want to enjoy them with their family. It's not just the programming though – we think that we've got the logistics right too, with breastfeeding tents, baby change facilities, baby bath time, great food, a sling library and buggy park, we've got it all covered'
Early Bird tickets for the event sold out in September and with the festival directors confirming that they are close to selling out families are encouraged to move quickly to avoid disappointment.
Rowan Hoban said, "We think that we currently have the right balance with a safe and intimate atmosphere so that families can have creative adventures, singing, dancing and playing together without having to queue up or make their way through overwhelming crowds. Our aim is to create spellbinding environments where the audience feel like anything is possible."
The Just So Festival will take place at Rode Hall Park, Scholar Green, Cheshire, ST7 3QP from 17-19th August 2012, with an expected audience of 5000 across the weekend. Full details of all acts, activities and adventures are available on the website now at www.justsofestival.org.uk where you can also buy tickets.