Volunteers needed to help FareShare, UK's biggest food drive to help people in poverty, collect food donations in Tesco's Levenshulme and Manchester Metros stores for hungry and vulnerable people in need this winter.
Volunteers are urgently needed in Tesco's Levenshulme and Manchester Metro stores from Thursday 27th to Saturday 29th November to help collect food donations in Greater Manchester for people in need this winter. The collections are for food redistribution charity FareShare who with foodbank charity The Trussell Trust are part of Tesco's Neighbourhood Food Collection; the biggest national food drive to help people in poverty.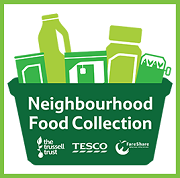 This is Tesco's fifth Neighbourhood Food Collection which aims to collect enough food in stores across the UK to feed vulnerable and hungry people this winter. There are dedicated stores for customers to donate food to FareShare, who will redistribute the food to over 1700 charities across the UK. There also dedicated stores for customers to donate food to The Trussell Trust's UK-wide network of foodbanks.
Customers at Tesco's Metro stores in Levenshulme and Manchester will be given a shopping list when they enter the store and asked to donate items of food such as tins of meat, fish, pies, soup, vegetables and fruit, pasta, rice, cooking sauces, tea, coffee and long life milk at the end of their shopping trips.
The food will then be delivered to FareShare Greater Manchester's Regional Centre who will redistribute it to local charities and community projects around Manchester supporting vulnerable people. Projects that benefit from the food donated include breakfast and afterschool clubs for vulnerable children, homeless hostels, lunch clubs for the elderly and local health charities. Over 1700 charities across the UK receive surplus food from FareShare, which saves each charity around £13,000, allowing them to reinvest in life-changing services for vulnerable people across the country.
Seb Serayet, Project Manager of FareShare Greater Manchester Regional Centre said: "As a volunteer you can really make a difference to the amount of food we collect in the Greater Manchester Tesco Neighbourhood Food Collection to help people through our charity members. Each volunteer can help us collect enough food for 500 meals in just 3 hours. The more volunteers we have the more food we can collect to help reach more people in need.
"It really is a fun and rewarding experience to be involved in one of the biggest food drives in the UK and it is something that you can do with your family, friends and local community."
Volunteering partners for the Neighbourhood Food Collection include the British Red Cross and other organisations that will support the food drive by providing volunteers in Tesco stores to collect food on behalf of FareShare. The Trussell Trust are also charity partners in the Tesco Neighbourhood Food Collection.
Since the Food Collections started, Tesco and its customers have contributed more than 15 million meals to its charity partners, FareShare and the Trussell Trust, benefitting families across the UK. The target this year is to reach an overall total of 20 million meals for those in need. Tesco has also committed to send surplus food to FareShare Regional Centres across the country, which has helped provide over 2 million meals to charities across the UK.
To volunteer at the Neighbourhood Food Collection in Levenshulme and Manchester Metro Stores with FareShare register at
www.fareshare.org.uk/food-collection-2014
email Nicola.ledsham@fareshare.org.uk / polly.hofmann@fareshare.org.uk
or call please call 020 7394 2474.