Kids' Country Day Nursery open their countryside doors for parents to explore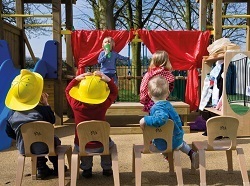 Kids' Country Day Nursery invites parents to attend the forthcoming open day on Saturday 27th June 2015, 11am to 3pm. Parents will be given the chance to explore the unique nursery in its beautiful rural setting and talk to the staff about day to day life at the nursery.
Set in the unique semi-rural surroundings of the quaint village of Over Peover, Cheshire, Kids' Country Day Nursery brings parents and their children passionate, quality early years care, state-of-the-art equipment and an extensive outdoor environment.

From Little Explorers and Tiny Wanderers through to Mini Adventurers and Grand Voyagers, children from birth to five years are provided with endless opportunities to explore, develop and thrive in the fresh country air.
Kids' Country's children share a large play space where they can climb trees, make mud pies, hunt for bugs and dig for worms, build dens, explore nature, grow vegetables, care for animals, and most importantly, enjoy the fresh country air! The nursery is opening its doors to parents and their children to give them the chance to experience life at Kids' Country and all the opportunities young children have in the beautiful countryside setting.
The nursery prides itself on its expansive outdoors, and is passionate about promoting the benefit of outdoor play for young children, and Kids' Country's unique semi-rural environment is perfect for ensuring children are not only gaining valuable experiences and learning life-long skills from everything they do, but that they are having fun whilst also reaping the health benefits of the fresh rural air.
A recent programme on ITV, Tonight: The Air We Breathe, highlighted the developmental problems children face when exposed to air pollution.
"While children are growing up and their lungs are developing and getting bigger, the fact is that if they are being exposed to pollution then they are not reaching their full potential, and that lung is not growing as it should. Poor lung function is associated with a number of chronic conditions in later life." ITV, Tonight.
Kids' Country pride themselves on being able to offer children a chance for their lungs to develop healthily in the fresh air that surrounds the nursery.
For those parents that cannot make the open day on 27th June, Kids' Country welcomes them to arrange a 'Stay and Play' session at any time directly with the nursery between the hours of 7.30am and 6.30pm.
Kids' Country Day Nursery
Grotto Lane,
Over Peover,
Knutsford,
Cheshire WA16 9HH
Phone: 01565 722449