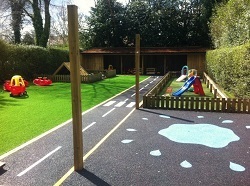 The first Nina's nursery was opened in 2008 in Greatmoor, Stockport, then in 2009 the Davenport nursery opened, and in July 2013 – the Macclesfield Montessori nursery. Local businesswoman and mother of two, Nina Stones, celebrated the beginning of 2016 by opening her fourth nursery – located in Cale Green, Stockport. M&D asked Nina a few questions about her new project.
Q. Is the new nursery also a Montessori nursery like the one in Macclesfield?
A. The Cale Green nursery is not an accredited Montessori nursery like Macclesfield, however, since opening the Montessori nursery, we have incorporated aspects of it into all our other nurseries.
Q. Nina's Nurseries cater for a lot of different ages, what is the age range for this new nursery?
A. We still cater for 3 months to 8 years – our service includes holiday clubs, breakfast clubs and after school clubs.
Q. What kind of facilities does the new nursery have?
A. We have a fantastic large outdoor garden area, which also includes an outdoor learning classroom, a forest school and challenging gross motor apparatus. The babies have their own space – a newly introduced waddler room. There is a specific room for 2 year olds. Pre-schoolers are located on the first floor of the building, where they have their own space to ensure fun, learning and independence. And there is an array of entertaining and challenging equipment throughout the setting.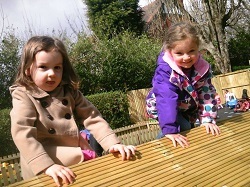 Q. What sort of atmosphere will the new nursery have?
A. The nursery will shadow the other settings and will have common features: such as our homely environment, highly qualified staff, room layout and resources. The atmosphere will be calm, educational, friendly, caring and individual to each and every child.
Q. What kind of children would benefit from attending this new nursery?
A. Any child attending the nursery will gain in many different ways. The children will learn to interact with others, improve communication skills, make new relationships, learn fresh creative ideas and extend on knowledge. They will gain experience in life skills and become more independent – building on the foundations of learning ready for everyday life!