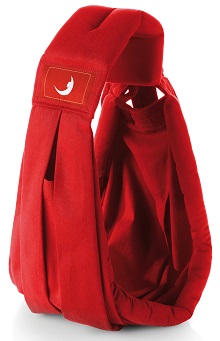 The befits of babywearing are becoming increasingly well known, held babies are, after all, happy babies! Slings are a popular alternative to traditional upright baby carrier systems, and there are lots of reasons why!
BabaSlings have teamed up with Mums&Dads to offer a lucky reader one of their gorgeous theBabaSling Classic slings in any colour worth £44.99. This truly is a fantastic prize for any parent that wants a convenient and stylish way to carry their baby.
theBabaSling(R) Classic is an award-winning sling, that allows parents to 'wear' their little one in different positions from birth to two years and could be easily adjusted to any member of the family.
Babywearing is not only convenient for busy parents on the go; it's a great way to bond with baby. It's easy for Mum to breastfeed discreetly whilst out and about, and gives Dad a great opportunity to keep baby close. theBabaSling(R) Classic is ideal for everyday use and it can be easily adjusted depending on the adult using it. Babywearing is a great way to keep little ones engaged with the natural rhythms of everyday life and if they fall asleep it's easy to unclip the buckle and gently lay them down without waking them up. BabaSlings Ltd understand daily life with a little one can be messy, so all their slings can be washed at 40 degrees, making it easy to keep those beautiful colours clean and sparkly!
To be in with a chance of winning please read the article just tell us – how many different positions can you carry your baby using theBabaSling?
Send your answer and details through the form below.
Closing date: Wednesday 12th March