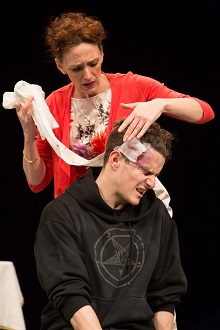 The Library Theatre Company
Anton Chekhov. Adapted by Anya Reiss.
Fri 21 February – Sat 8 March at The Lowry
67 years ago, the Library Theatre Company performed their first play in the auditorium beneath the Manchester Library. Now, they are performing their final play under that same name at the Lowry Theatre. It is fitting, therefore, that not only are they performing the same play, but that play is Chekhov's 'The Seagull', which challenges the concepts of old and new, and confronts the future of theatre and performance. The play has always had the potential to be controversial: the first time it was performed in St Petersburg it was given a positively hostile reception by the auditorium, so much so that Chekhov was reluctant to allow it to appear in Moscow. Yet the Moscow performance, directed by Konstantin Stanislavski in 1898, was a triumph, and introduced a new style of performance to the Russian and international stage.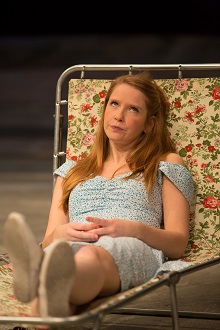 This version of the play is subtly directed by Chris Honer, and adapted by Anya Reiss, who brings it firmly into the 21st century, filling it with neon-pink-hand-luggage-sized suitcases, conversations about overpriced phone tariffs, and stroppy teenagers wearing brogues. Although there is humour throughout the play, often provided by Victoria Lloyd's persistently gothic Mascha and her money-obsessed pursuer Medvedenko, played by Tom McHugh, this humour is often used in a dark way as the characters face their problems of fame, recognition, and unrequited love. In this sense, the play remains very true to the spirit in which it was written, as the art of writing 'tragicomedies', was very much a part of Chekhov's work.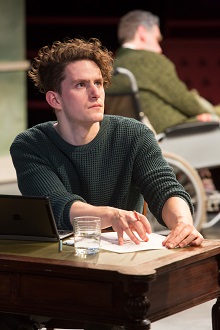 The play follows the outwardly mundane stay of a well-known actress at a country house, and the emotional drama that this provokes. In the tangle of human feelings present in the play, there is a feeling that all of the characters are living their lives as though they are on a stage, with each character being a theatrical presentation of a certain type of person, living in a certain way, with certain hobbies, and even a certain way of dressing. This is portrayed especially in the character of Konstantin, emotionally played by Ben Allen, and that of his self-obsessed mother, vividly portrayed by Susie Trayling.
'The Seagull' is a play which probes human nature, and our relationship with each other, but also with the arts and their development, so it is the perfect way for Chris Honer to bow out as artistic director, and for the Library Theatre Company to move on under a different name at the new arts centre HOME.