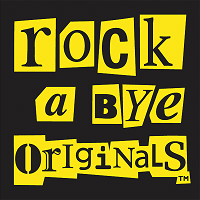 RockaBye Originals is the crazy baby and children wear range that is the perfect solution for parents who want to dress their little ones in something unique and different.
This Tuxedo sleepsuit, for example, is perfect for special occasions such as weddings and christenings – and certainly for around the Christmas dinner table! But it's too much fun to keep just for best –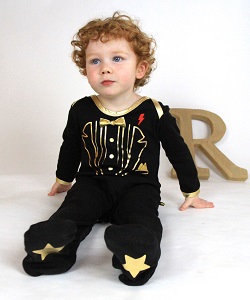 it should be everyday wear for babies to rock-and-roll in!
'Rockabye Originals' was formed when, as a new mum, Emma McQueen couldn't find anything cool and funky for her little bopper to wear. She borrowed a couple of wax crayons and Rockabye-Baby was formed!
Mum-of-two Emma designs funky, original clothing for babies (0 – 2) and kids from 2 – 10 years old. Inspired by music and pop and rock culture, her designs are bright, bold, extremely original and embody FUN, FASHION and ATTITUDE. They're all ethically made in Europe, using 100% super soft, quality cotton.
Her ethos is:
For kids about to rock, we salute you.
Every gorgeous, mad one of you is a total original.
You have the right to wear funky fashion and great style.
Demand cool. Embrace different. Stay original.
Her fantastic designs include a little Elvis jumpsuit, ones with guitars on the front and ones with witty rock phrases. They come packaged in a SUPER COOL 10 INCH RECORD SLEEVE that seriously rocks – and the latest 'Bling' range (black and gold) comes packaged in a stylish cardboard box with the company's gold embossed logo, which adds to the special-ness of the range.
They are stocked in House of Fraser, Not on the High Street and individual shops that favour the quirky.
Emma can be contacted at www.rockabye-baby.com or emma@rockabye-baby.com
Competition Time!
Mums&Dads teamed up with Rockabye Originals to give our readers a chance to win three fantastic prizes: Tuxedo sleepsuit, Elvis sleepsuit and a set of bibs – tuxedo bib and gold 'dribble' bib.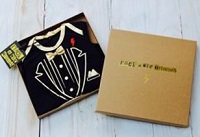 To enter competition to win Tuxedo sleepsuit, use the widget or link below, answer the question or choose any other way to enter (using all the options together is allowed). To win Elvis sleepsuit and a set of bibs, visit our site next week.