There are no good and bad methods of teaching times tables, but there are methods that work and don't work. But the method invented by Graham Woodward, a tutor from Greater Manchester with more than 20 years of experience, seems to be bringing the desired result.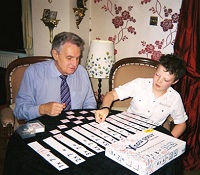 Graham says, "I initially created and devised my unique system because as I visit children to tutor them I find more and more that they do not know their times tables very well. I strongly believe that times tables are still the basis for all future maths knowledge as children progress into secondary school and eventually into the workplace''. Bearing in mind that the UK is 27th in the world numeracy league tables, and feeling that the situation is extremely serious, Graham doesn't like calling his invention a game. His young customers, though, do treat it as such. Alice Hopkinson, aged 11 says: "I love playing with this game and it has taught me all my times tables. This is a shame in some ways because I really liked learning them this way because it's fun!" Brad McShean, father of 7 year old Jordan, comments: "Quick results from Jordan, my 7 year old son. He thinks he's just playing a card game, but doing it the 'Know Your'™ way he is actually knowing and retaining his tables before any of his friends – amazing!!"
Know Your Times Tables is a 380 piece boxed set, where children lay out single-digit number cards in the correct places as answers to times tables questions written on strips in front of them.
"This system is different to anything else available today", explains Graham, "it is extremely effective because children respond far better when they can touch, feel, think and participate in something tangible. With this system there is nothing to write down, no computer involved, and no boring singing by rote. It is important children see the relationship between numbers, rather than just reciting them. Even though the answers are obviously still the same, the fact that the answer cards are always shuffled ensures the answers present themselves differently every time. This heightens and improves the child's awareness and thinking of where to place a card – ensuring they don't forget."
Whether you are a parent concerned about their child's progress in maths, a grandparent looking for an unusual Christmas present or a teacher willing to try a new method visit www.ko-box.com or call Graham on 01706 875517. You can buy the game for £24.95, see a demonstration on the website or ask any questions you may have.