All girls' education continues to thrive in south Manchester with demand for places at Wilmslow Preparatory School as high as ever. But what is it that makes the fee-paying school stick to its 'all-girls' guns when, during these tricky economic times, going co-ed could make life financially easier?
Headmaster, Paul Reynolds, picks up the story and gives us his views on the all-girls issue.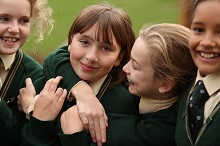 We all know that girls and boys mature at different times and rates, with girls maturing faster than boys. It makes sense, therefore, that when you only have girls in the classroom, teachers are able to adjust the pace of learning so that the girls make faster academic progress.
We are also able to focus our teaching techniques on girls and the way that they learn. What motivates girls is different to boys and our teaching staff only has to deal with strategies to motivate girls. We don't need to have 'boy-friendly' strategies; it's just girl brain power all the way!
I'm a father with a now grown-up son and daughter so can vouch for the fact that young boys are louder and more disruptive than girls! There is no doubt that the environment in an all-girls school is calmer, it's more conducive to learning and the results we achieve bear testament to this.
Interestingly research has shown that girls in a girls-only environment, whatever their age, are more likely to explore science and computer science and our pupils are certainly very enthusiastic about these subjects as there is no gender stereotyping, they just all get on with it.
Co-ed environments can also influence musical instrument selection but here we have girls playing the full range of instruments including saxophone, guitar and trumpet without a second thought. The same is true in sport where our girls excel, be it on the athletics field, in cross country or playing cricket.
I remember an article I read in the Daily Telegraph a couple of years' ago. It quoted Jon Pickering, a lecturer in school effectiveness and improvement at the Institute of Education. He said, "Back in the 1680s, John Locke was writing about what makes girls better than boys. For many years, local authorities like the London County Council operated a weighting system in favour of boys, because if they'd just taken the candidates with the highest marks, they'd have had schools full of girls."
I have no doubt that girls thrive in a single-sex environment. What's important to me and the team at Wilmslow Prep is that the girls are happy, and ours most certainly are. They come to the school in Kindergarten or Reception and some at that age are quiet and shy children. Over the years we see them grow in confidence and self belief and by Form 6 we have independent, confident girls who move on to some of the best schools in the area.