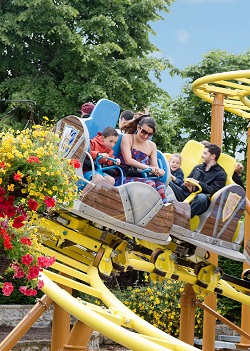 Throughout the Easter weekend from Friday 3 to Monday 6 April there are 'eggstra' special activities planned at all three Gulliver's parks in Warrington, Matlock Bath and Milton Keynes.
Search high and low for hidden eggs in Gulliver's famous Grand Easter Egg Hunt, bring your best homemade bonnet for the charming Easter Bunny Parade (£1 gift shop voucher for children who arrive wearing their special creations!) and the ultimate in springtime fun – the Big Bunny Bounce!
There's an enormous selection of rides, shows and attractions to discover too – and the best news is, everything's designed with kids in mind!
Gulliver's is now open every weekend and throughout the school holidays.
You'd be an April fool to miss out on the fun!
For list of daily activities, opening times and bookings go to www.gulliversfun.co.uk
Mums&Dads magazine teamed up with the children's theme park company to give away two family tickets for unforgetable day out.
To have a chance of winning a family ticket for four people to visit Gulliver's this Easter enter through the widget below. You could use several different ways to enter to increase your chance of winning.
Easter at Gulliver's Parks | Mums&Dads Competition