Scooting is in fashion among toddlers and their parents. And this Christmas you are spoiled for choice.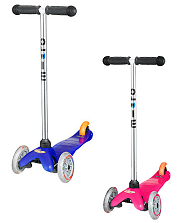 MICROSCOOTERS from Giddy Goat Toys in Didsbury
Generally recognised as being the best brand of children's scooters available, Microscooters are seen in playgrounds and parks up and down the country. The Mini Microscooter is suitable for children aged 2 – 7 years old whilst the Maxi Microscooter, with its extending bar, is suitable from approx 6 years through to 10+ which gives you years of use, especially as these high quality, Swiss designed scooters are built to last.
www.giddygoattoys.co.uk Call 0161 445 1097 to check availability or for more information.
Mini Microscooter – £54.99, Maxi Microscooter – £94.99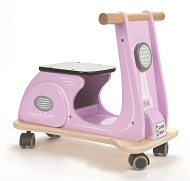 JAMM SCOOT from Monkey Puzzle Toys in Chorlton
This stylish pedal-free scooter from British company Indigo Jamm has a touch of retro styling and its swivel wheels allows your toddler zip around in all directions for some great indoor fun. The wooden scooter comes in both aqua and pink and has a cute little painted speedometer, headlight, tail light and a compartment to store toys. Using high quality and sustainable materials it is designed specifically for younger children, 1 – 3 years old, and its stylish look is easy on the eye. No wonder that it is Winner of Junior Design Awards 2012 -this is a fantastic addition to a child's collection.
You can get it online at www.monkeypuzzletoys.com. Pop into the shop at 93 Manchester Road, Chorlton, M21 9GA, or call 0161 862 0100 for more information
Jamm Scoot – £59.99