This Sunday 6 October saw records smashed left, right and centre at the fourth MBNA Chester Marathon, hailed as the Number One Marathon by readers of Runners World. Not only has this year been the races biggest to date with over 4,500 entries, but both the male and female course records were also beaten.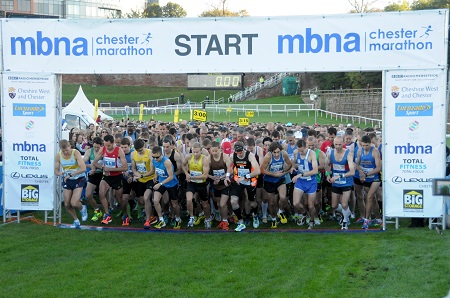 Leading the runners to the finish, and shaving almost six minutes off the previous course record of 2hours 27 minutes and 24seconds, was Ukranian born Marius Ionescu who runs for Altrincham AC, finishing in a time of 2hours 21minutes and 42seconds.
He said: "It was a fast course in Chester and I'm really pleased to have set a new record. I stayed at the front of the pack from the start and after the seven mile point, I broke away from the other runners, maintaining my lead right to the finish line. The pockets of support around the course were brilliant and really made a difference to my performance".
Ben Jones, who lives in The Wirral followed shortly after, finishing in 2hours, 24 minutes and 57seconds, also comfortably beating the former course record.
Claiming the title in the women's race was Barnsley's Julie Briscoe, who also created a new female course record, completing the 26.2 mile race in 2hours, 40minutes and 26 seconds. The previous course record stood at 2hours, 48minutes and 11seconds.
Julie was pleased with her win, commenting: "I planned to run the Berlin Marathon this month, but I couldn't afford to go. I'm so pleased I chose Chester instead. It's my first time running this event and I chose it after reading so many positive reviews online – it didn't disappoint. The route took us through some lovely countryside and the conditions were perfect for running, to win the top prize and a bonus for breaking the course record is a huge added benefit. I'll be using the money to take my husband and my two boys on a well deserved holiday".
Marius and Julie both took £2,000 home with them after receiving £1,250 each for claiming the top spot, and an added bonus of £750 for breaking the male and female course records.
Andy White, Joint Race Organiser commented: "We are thrilled to have a new course record, demonstrating the speed of the route here in Chester. We were keen to attract some really fast runners this year, which is why we increased the prize fund, and we were pleased to be able to giveaway both the male and female bonuses this weekend to our very deserved runners".
Aside from the elite field, over 3,000 marathon runners turned out to enjoy one of the North West's biggest marathons, facing ideal conditions with bouts of glorious sunshine throughout the day.
The MBNA Chester Marathon currently holds the title as the UK's Number One Marathon, pipping the likes of London, Brighton and Edinburgh to the post, and it certainly didn't disappoint. With the ballot recently announced for next year's Virgin London Marathon, some runners were keen to compare the two courses.
Gareth Lowe from Chesterfield, who finished in third place got a new personal best at the weekend's race.
He said: "I've not run this race before, but I found it absolutely brilliant; the whole route is so picturesque, which makes it much easier to keep on going. I actually preferred this course to London, which I ran back in April, and I definitely intend to come back again to see if I can shave another chunk off my personal best".
Julie Smith, a Radiographer at Liverpool Children's Hospital, made Chester her third marathon challenge this weekend after running the Liverpool Marathon twice in the past. Julie, who lives in Wallasey was running to raise money for nephew Tom, and his charity; the Tom Church Foundation which was set up after he was involved in a road traffic accident and had to have his leg amputated.
She said: "It was a lot warmer than I was expecting, so I did find the run quite tough, but the marshals around the route completely made up for that through their ongoing support and constant supply of water to keep us all going. It was nice to run along so many country lanes and it's all made so worthwhile by the fact that I know what I'm doing is making a difference to Tom's charity".
It was all smiles in the Mini Marathon as well, as 250 children and families took part in the 1 mile race, which starts and finishes inside Chester Racecourse. The race was won by Sophie Smith from Nantwich, who finished in 5minutes and 15seconds, and felt that the Mini Marathon really captured the spirit of the main race.
She commented: "I entered with my seven year old sister as our dad was running the marathon and we wanted to be a part of the event as well. I ran a few years ago and loved it, so I wanted to come back again this year. It's good to feel that you're a part of the main event, which I'd really like to do when I'm old enough".
Joint Race Organiser, Chris Hulse added: "This year's event was a great success. We have put a lot of hard work and planning in to ensuring things ran smoothly for all the runners, and it has definitely paid off.
"We'd like to thank all the event team, volunteers and sponsors for working so tirelessly, as they do every year to make the event a success. We would also like to say a huge thanks to our TriActive Pace Runners, a first for this year's race, who worked so hard in the sunshine to get our participants across the finish line in their target times.
"The event wouldn't be the same without the thousands of participants who have pushed themselves to the limit and raised a lot of money for charity, along with the spectators around the route who create such a buzzing atmosphere".
This year's marathon is expected to raise in excess of £500,000 for good causes. Fundraising totals will be announced later this year.
For further information, or to see a full list of 2013 race results, go to www.chestermarathon.co.uk.
Early bird entries for the 2014 MBNA Chester Marathon will open next Monday 14 October. To enter, go to www.chestermarathon.co.uk.