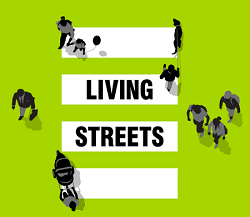 This Walk to School Week (15-19 May 2017), charity Living Streets is calling for the new Greater Manchester Mayor, Andy Burnham to prioritise making the Walk to School safer to help tackle a host of problems including child obesity, congestion and air pollution.
New research from the largest UK cities by the charity responsible for the Walk to School campaign, has found that over a quarter of parents in Manchester (29%) think their city is unsafe for children walking to school
After a generation of decline in the number of children walking to primary school (from 70% to 47%), the government has recognised the importance of walking to school and set a target – to get 55 per cent walking to primary school by 2025. Living Streets is now urging Andy Burnham to support the national target.
In his manifesto, Andy Burnham committed to appoint Manchester's first ever Active Travel Commissioner for Greater Manchester, in a step to prioritise walking and cycling across the city. He also promised to introduce a new Clean Air Action Plan for Greater Manchester and put forward a plan to modernise our local train stations, making them more accessible. Living Streets now wants him to action these commitments to make Greater Manchester a region of Walking Cities.
Joe Irvin, CEO of charity Living Streets says: "The walk to school is a great way of children getting active in the morning before school. It's easy, free, accessible and a great way for children to get some exercise.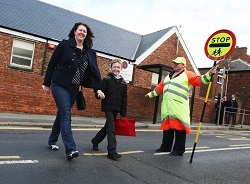 "We expect Mayor Andy Burnham to implement the pledges in his manifesto to make Greater Manchester a region of Walking Cities. We know that many parents in Greater Manchester are put off walking to school because of high levels of traffic outside the school gates. The more of us walking to school, the safer conditions will be, so this week we're asking families to give walking a go in Walk to School Week."
Lisa Rogers, from St Pete's School in Manchester, says: "All pupils definitely want to take part in WOW and I think this has been especially the case since they are rewarded with badges!
Maisie, Year 6 said, "I love the badges and make sure I walk at least once a week so that I can get one."
Madeline O, Year 6 said: "We had a problem with parents parking… Starting the WOW scheme has encouraged parents to park further away from school and stride."
This comes at a time when one in three children leave primary school overweight or obese and just one in five children achieves the recommended daily amount of physical activity.
This Walk to School Week, the charity is urging members of the public to rate their walk to school via www.livingstreets.org.uk/rateyourwalk