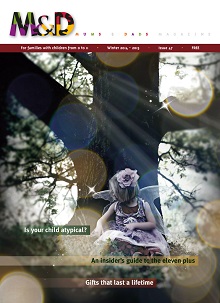 Hello to the season of shows, and pantos, and grottos, and spending too much, and cooking non-stop…
In fact if shows and grottos are unavoidable pleasures of the season (and you can get all the information you need in our Events Watch), feeling guilty about spending and feeling fed up with cooking can be avoided. Grab a copy of the magazine at one of our usual distribution points or keep checking the website to get some ideas on how to make life cosy for yourself and exciting for children without breaking the bank. Cooking can be quite boring, when the same dishes are prepared again and again, try something new this winter – click here to find our new an old recipes – surprise yourself and your guests.
If you are getting ready for school entrance exams in January, read our 'insider's guide for exams and interviews'. And if you are a strong believer in luck, don't forget about competitions, we update them all the time.
As always, a big thank you to all our advertisers, distributors and of course readers of the magazine! Season's greetings to all of you!