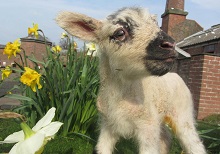 There are sleepless nights ahead for the farm staff at Tatton Park as the much-loved farm in Cheshire East heads into lambing season. How do staff members wind down after a long night-watch? By counting sheep of course!
The first of 53 lambs arrived at 1pm on Tuesday witnessed by a crowd of Easter Tuesday farm visitors. In total 31 farm ewes are due to lamb and the farm staff are expecting – hooves crossed – 9 single lambs and 22 sets of twins between now and the middle of April.
Visitors to the farm during Lambing Fortnight (from Tuesday 7 to Friday 17 April) can expect to see many woolly new arrivals. During this special fortnight visitors can meet the new spring lambs, listen to educational talks and take part in fun creative activities. Of course, there is also the possibility of our visitors being lucky enough to see lambs being born!
In addition to the farm's mainly Suffolk cross flock, there are also two rare breed Leicester longwool ewes expecting 3 lambs between them. The Leicester longwools are considered 'vulnerable' on the Rare Breeds Survival Trust's watch-list and so the addition of potentially more females to the Home Farm flock is very special.
Farm manager, Jayne Chapman said: "Lambing is a very special time of year, a real sign of spring. We all love to see the lambs skipping about enjoying the sunshine!."
Seeing a new born lamb being fed is just one of over 101 things to do at Tatton Park. This new campaign, launched last year, features 101 of the best possible experiences to be enjoyed at Tatton. These range from feeding Tatton's deer their daily breakfast to singing happy birthday with a rare breed pig: watching the Vikings invade Tatton's Old Hall to escaping in to a New Zealand rain forest. www.101tatton.org.uk
Home Farm opening times and prices
The farm is open for high season (until October 26, 2015) Tuesday to Sunday from noon – 5pm (last entry 4pm).
High season prices for single attraction entry: adult £6, child £4 (aged 4 to 15 years of age), family £16 (two adults and up to three children).
Totally Tatton Ticket (entry to three attractions: mansion, gardens and farm): Adult £11, child £5.50, family £27.50.
National Trust members pay 50 per cent entry to the farm. Park entry charge of £5 per car applies to all.
Please visit our website www.tattonpark.org.uk or call 01625 374400 for more information.