England and Manchester United football legend Sir Bobby Charlton unveiled a magnificent collection of artwork created by pupils at Withington Girls' School at a special ceremony at the Royal Manchester Children's Hospital.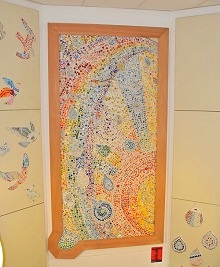 The World Cup winner who was celebrating his 75th birthday, unveiled a plaque commemorating the occasion, flanked by senior NHS officials, local politicians and VIPs.
Sir Bobby, who had attended the "topping out" of the hospital's Ronald McDonald House – providing accommodation for sick children's families – last November with fellow World Cup hero Sir Geoff Hurst, expressed delight in being involved. "You can never do too much in the community," he said.
Lord Bradley of Withington, chairman of the Christie Hospital Trust and Manchester Central MP Tony Lloyd, soon to contest the election to become Greater Manchester's first Police and Crime Commissioner, paid tribute to the work of the hospital.
Lord Bradley added: "Children's experience here will be immeasurably enhanced by the work of pupils at Withington. You should all be very proud of what you have done."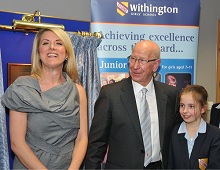 Sir Bobby was introduced to the school's Head of Art Ruth Fildes and 10-year-old pupil Helena Mitson from Urmston, who won the competition for the design of a spectacular 8ft-long mosaic, now hanging in the stairwell of the hospital's Harrington Building. He was then presented with a chocolate birthday cake made at Withington Girls School.
In addition to the mosaic, depicting a rainbow, 25 five landscapes, created by pupils in Year 9, were exhibited with the young artists on hand to explain the background to each of their pieces. The theme for the landscapes, now on permanent display in the hospital, is the Natural World.
The art project was initially the idea of the family of the late Dick Harrington, Professor of Child and Adolescent Psychiatry, in whose memory the Harrington Building was named. His widow Lesley and daughter Kate, a sixth former at WGS, shared their vision with Mrs Fildes and she captured the imagination of around 30 young artists at the school. Along with the hospital's Galaxy House staff, young people and their parents, they made the vision a reality.
Withington's headmistress Sue Marks told around 100 guests at the vent: "We have a very special connection to the Harrington family and I am delighted that our pupils had the opportunity to be involved in such a worthwhile project within the local community. I congratulate Ruth Fildes and her team for leading the girls with such enthusiasm."
Royal Manchester Children's Hospital is home to a facility which treats children and young people from all over the North West with mental health conditions. Children and Adolescent Mental Health Services (CAMHS) at Galaxy House provides 24 hour support to the population of Greater Manchester, Lancashire, Cumbria and beyond. The opening of two extra in-patient beds was also celebrated on the day.