Stockport Grammar Junior School pupils have been exploring the world of space and the solar system as they boosted their science skills.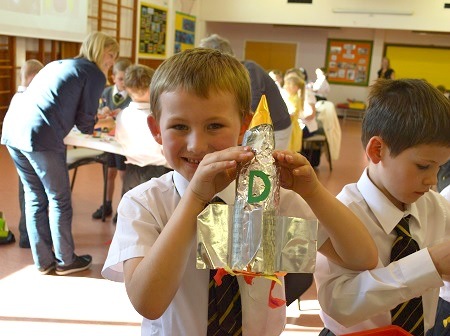 Boys and girls enjoyed Space Week activities including a visit from the energetic presenters of Mad Science North West. Proving that it's never too early to start learning about science, Nursery pupils got involved as they played with space slime, donned space helmets, drew space creatures and re-enacted what it would be like to walk on the moon. In the colder weather, the school's youngest pupils continued their scientific discoveries, hunting for items affected by ice and frost in the outdoor area and looking at how salt makes it melt.
Year 5 pupils got up close to the world-famous Lovell telescope as they learnt all about space and planets on a visit to Jodrell Bank Discovery Centre.
The children used a clockwork solar system to learn about the sun and planets and walked the Planet Path to discover the scale of the solar system.
An interactive workshop allowed pupils to find out about the skills needed to be an astronaut, scientist or engineer. Mission training and rocket demonstrations preceded the chance for pupils to control a robot arm and witness a controlled explosion of rocket fuel.
The Inflatable Planetarium interactive workshop enabled pupils to explore the night sky and visible planets, view the seasonal constellations and observe the moon.
Junior School pupils, who have access to their own fully equipped laboratory, get regular opportunities to boost their science skills with trips to the Senior School for Physics, Chemistry and Biology clubs.