Since our son was born, we've been waiting for him to be old enough to give us the excuse to go to Center Parcs during the run up to Christmas and enjoy the "Winter Wonderland".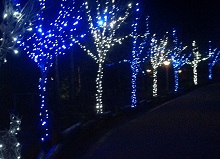 For those not in the know, the "Winter Wonderland" is a whole programme of loveliness which includes meeting Father Christmas, pantomimes and festive activities and events for the whole family to enjoy. The village itself is beautifully decorated with lights, each lodge has a festive wreath on the door and they have twice weekly firework displays. The whole village feels wonderfully Christmassy.
We are Center Parcs seasoned veterans though it has been a little over a year since our last visit and we were very pleasantly surprised at some of the changes. As we pulled up to the drive-through check in stations, we were quickly greeted by name and given our new-fangled wristbands which opened the lodge doors and you could pre-load them with credit and use them for shopping etc.
We stayed in one of the New Style Woodland lodges which are comfortably and stylishly decorated. We were a few minutes walk from the village centre and the subtropical paradise and we spent a good few hours each day swimming, playing in the toddler pool and splashing in the waves. It's a great facility and what's more it's free. They've recently upgraded the changing
areas which are excellent, clean and with decent sized changing rooms. I was really pleased that the showers now had shampoo provided so there was no juggling damp children, shampoo bottles and towels. It was much improved.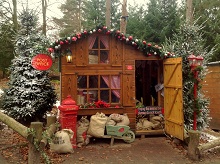 One of the real highlights of the break was exploring the enchanted forest near Father Christmas' Grotto and meeting the main man himself. The enchanted forest is really beautiful with lots of little cabins to explore, lovely snow covered Christmas trees and there were even a couple of real reindeer just relaxing before the big night. It was beautifully done and we all left feeling incredibly festive.
We also loved the fireworks. The lakeside display was beautifully done with impressive whizz-bangs which our toddler was in awe of, it was so good even we were oohing and ahhing.
Center Parcs have always been child-friendly, but I think recently they've upped their game. Every member of staff who came into contact with our son was wonderful with him, from the Ranger, to the waiting staff and his favourite, the manager at the Dining In Take Away who gave him a little tub of ice cream for waiting so patiently with his Daddy.
We had such a lovely break and we came back feeling so festive and ready for Christmas. It was the perfect way to unwind before the busy weeks ahead.