Didsbury Girls Football offers a unique opportunity for local girls from all schools to have a go at girls only football. Running every Tuesday evening 5-6pm, in the main sports hall at Barlow RC High on Parrswood Road, girls age 4-11 can come along and join in.
Girls are split into three age and ability appropriate groups with an FA qualified coach leading each and enjoy a mixture of skills, drills and games. There is no sign up, no joining fee, no special kit and no commitment needed. Girls can join in whether they have played for years or never played at all. Simply pay £4 per session on the door.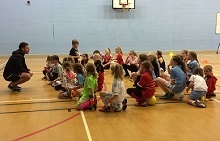 Didsbury Girls Football, started in November 2015 following on from the very popular mixed 'First Touch Football' which takes place on the Astro Barlow High every Friday 5-6pm. Girls that get the bug and wish to play competitively now also have the opportunity to join the girls teams at Kingsway AFC, just down the road in Burnage!