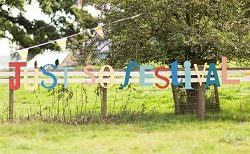 While most of us are planning Christmas parties and cosy nights next to the fireplace, some magical creatures from far away woods are plotting their summer adventures in the wilderness. Just So Festival 2015 is getting ready to cast a spell on Rode Hall Parkland again next summer and tickets are on sale already. For those in the know, no further explanations needed – go on, buy your tickets and start thinking about the costumes! The rest of you, consider yourself lucky – by pure magic Jane and her family managed to get to Just So Festival 2014 last summer and were happy to uncover the mystery for you. Read on…
M&D
For the last five years, families across the North West (and beyond) have been enjoying the magical, mystical and mysterious delights of the Just So Festival. The festival is held annually each August at the stunning Rode Hall Estate near Congleton in Cheshire. I went along with my pre-school aged son to find out what all the fuss was about.
The Just So Festival runs Friday to Sunday, but campers can stay on until Monday if they wish. There's an incredible amount to see and do over the weekend, and something for everyone. The festival is squarely aimed at families with kids of all ages and there's a really relaxed, fun, creative atmosphere.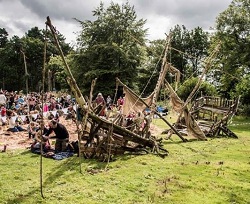 Just So is divided up into areas including The High Seas; The Imaginarium; Jitterbug; The Spellbound Forest; Head Over Heels; Peekaboo; Lazy Days and The New Curiosity Shop. Each area has its own theme, with different events and activities throughout the festival. For example The High Seas boasted its own pirate ship, with a huge sandpit where you could dig for buried treasure. There was an adorable area especially for babies. Peekaboo is all kitted out with a cosy baby bath area and a baby feeding tent, compete with comfy sofas for Mums to sit and feed their baby. It was very well thought out.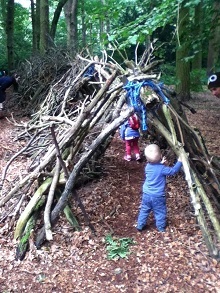 We were particularly entranced by the Spellbound Forest, so we kept creeping back in for more, there was a great tunnel made from sticks and branches which was just the right size for children to clamber through; there was a trail lined with mirrors with all kinds of imagination sparking quotes and activities along the way; there were crafts such as lantern making and you could make your own headdress and be a fairy king or queen, but best of all, a mysterious creature lives in the deep dark woods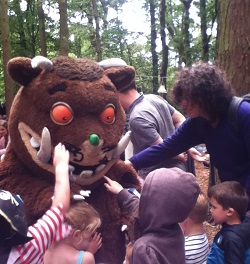 and he liked to come out of his cave and meet the children, he didn't try to eat the children though, despite his terrible teeth in his terrible jaws, he was worried he'd be turned into a Gruffalo crumble!
There were plays, performances, musical interludes and magical creatures such as mermaids and fairies. The whole festival site had a really creative, eclectic, magical atmosphere and you never knew what, or who would be around the next corner.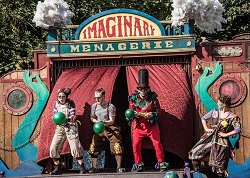 One of my highlights was the Les Enfants Terribles' Marvellous Imaginary Menagerie. It had been recommended by a number of fellow festival goers; an engaging and hilarious performance in which the dashing Dr Longitude explores the world in search of marvellous exhibits for his imaginary menagerie. If we'd stayed for the weekend we'd have watched every single performance, it was excellent.
All that fresh air, fun and exercise made us hungry, thankfully there was a fantastic array of food stalls to forage some lunch from. There were food stalls in most of the areas, but in a courtyard, near the live stage was where most of the foodie action was. We were delighted to see local ice cream heroes Ginger's Comfort Emporium there, so we treated ourselves to some of their "Chorlton Crack".
There were so many foodie things to choose from, you could if you wanted to spend the weekend eating your way around the world. The paellas looked excellent, there were burgers of all descriptions, curries, cakes, smoothies and salads. Often the simple things are the best, so we all enjoyed some sweet, juicy and very fresh corn on the cob.
Dotted around the periphery of the site were small-ish camping areas with access to toilets and shower facilities, if you were staying for the weekend you could book a camping ticket and take your own tent, or if you wanted to glamp, there were several pre-bookable glamping options available. Next year we'll definitely be camping and staying for the whole weekend.
I must admit, before I went I thought the tickets were expensive (£100 per adult for the weekend), but having been I think it's good value, if you compare that to a family trip to the theatre for an afternoon, I think it's well worth it, especially considering the sheer number of events during the festival.
The Just So festival was just so perfect. It was such magical fun; there was a great atmosphere and it was a really family friendly day (or weekend) out. This was the highlight of our summer and an experience that will stay with us for a long time. We can't wait for next year!
Top tips for the Just So Festival
Don't forget to dress up as a owl, fox, stag, fish, frog or a lion – choose your tribe!
Take a thick picnic blanket to sit on
Leave your adult inhibitions at the door and get into the spirit of things
Wear good walking boots (or wellies)
If you're saving your pennies, take a picnic
Expect to get a bit dirty, but that's all part of the fun