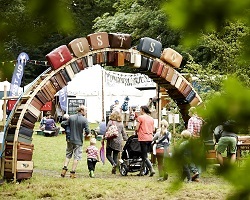 The Just So Festival is fast becoming the family festival highlight of the year. Families from Manchester, Cheshire and surrounding areas flock to Rode Hall in Cheshire each August to take part in this fantastically fun festival in the great outdoors.
For those not in the know, the Just So Festival this year takes place on 19th, 20th, and 21st, August and both day and weekend tickets are selling out fast. The festival is a wonderful melting pot of music, storytelling, theatre, magic and adventure, with new and exciting sights and things to do around each corner.
The Just So Festival from Wild Rumpus is a three day treat for the imagination. The festival began in 2010 and has got bigger, better and more wondrous each year. Just So is packed full of wonderful sights and sounds, things to see and do and it's a truly memorable event for all the right reasons.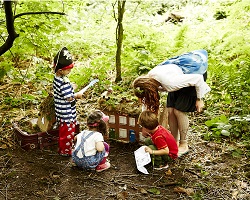 Visit 'The High Seas' and immerse yourself in Swallows and Amazons style fun, there's the famous lantern parade to prepare for. Meet the heron, caper through sail cloth city, take part in some traditional tribal crafts and music making, and relaxation sessions not to mention the fantastic outdoor cinema showing Labyrinth, Swallows and Amazons and The Wizard of Oz!
For circus workshops, Suitcase Stories, Travelling Treasury and other theatrical treats, sail on over to 'Head Over Heels' for some theatrical fun. Catch the fantastic Les Enfants Terribles and their new outdoor show The Fantastical Flying Exploratory Laboratory, a sequel to the hugely successful The Marvellous Imaginary Menagerie. The show follows Dr Latitude and his team of misguided misfits on a global quest, discovering incredible and entirely 'fictitious' new lands, tribes, flora and fauna previously unknown to humankind! Not to be missed!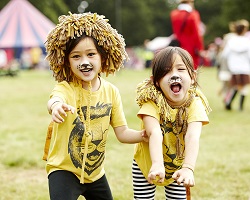 Take part in the now famous Tribal Tournament – dress up as a fish, frog, fox, owl, lion or stag, compete throughout the weekend and take part in the Tribal Parade on Sunday night to see which tribe comes out on top!
With a full programme of music, theatre, dance, and creativity the whole family are in for a treat for all the senses. There's food and drink from an array of award winning street food vendors, music, storytelling and a friendly atmosphere of awe and wonder. The festival toilets aren't bad either (there's also a very lovely baby area where little ones can be bathes, fed, cuddled and cosseted)!
Day and weekend tickets are available, but you can also get camping tickets for the weekend, something which will allow you to fully experience and enjoy the festival. At night wonderful things happen including pillow fights, the night sky spy and a magical midnight feast.
The Just So Festival is a magical weekend full of adventure, a chance to make some wonderful family memories and to enjoy the great outdoors. It's a family event not to be missed!
The Festival is on 19-21 August and tickets are available from the
Just So Festival website
at £125 for an adult's weekend ticket, £50 for a child's weekend ticket, £50 for an adult's day ticket and £20 for a child's day ticket.