Nominated as "Best local Activity for Under 5's" Kiddiewinks, a South Manchester based Children's entertainment company, has recently added to their team and recruited a new class leader. Mary Pollock is a qualified Primary School teacher with musical background, lots of Early Years experience and over 12 years of teaching experience!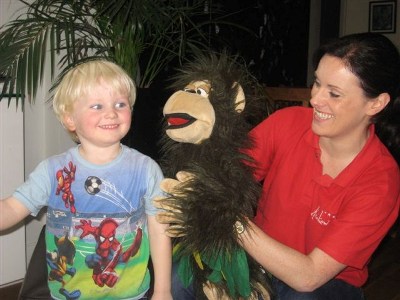 From November 2011 Mary will be launching new classes in venues across Stockport & Cheshire – Heaton Moor, Bramhall, Wilmslow, Altrincham and Sale.
After attending just one Babywinks & Kiddiewinks session Mary fell in love with Kiddiewinks and was keen to join the team saying "Kiddiewinks sessions are an invaluable experience for any child. Childrens' brain development is highest during the first four years of life, this period is critical for their intellectual and emotional progress in future. Babywinks and Kiddiewinks sessions nurture this and as well as being educational and masses of fun they are a great social experience for children and the grown ups have a great time too!"
Kiddiewinks offers 2 age specific classes: Babywinks for 4 ½ mths – 18mths and Kiddiewinks for 18mths – pre-school.
Kiddiewinks also offers "award nominated parties" for 1-5 year olds (Other party option available for 6-14 year olds).
To book a free trial session at one of our classes or to hear more about the parties please call 0161 432 3624 or visit www.kiddiewinksonline.com