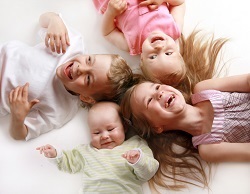 What gift can you buy for a baby? Something they won't grow out of, something that doesn't go out of fashion, something that will last a lifetime. What you can buy these days for babies is amazing, but how special and unique would it be to receive a gift that can literally save a life.
Bumps & Bashes, a company that has specialised in baby and children first aid since 2009, is very excited to launch their NEW Gift Cards. The card is worth £30 and can be given to a friend, relative or used to attend a class or as part of a payment for a private 'home class' for a group.
Kate Naylor, the founder of Bumps & Bashes, says, "Once one person has been on our course, they often recommend it to friends and other family members. Grandparents often attend our classes since a lot of them look after grandchildren on a regular basis. Our classes are not watered down and you are not overloaded with irrelevant information. Let's face it if the worst happens, there's no flip chart or PowerPoint to help you. All you want to learn is how to make sure that your children are kept as safe as possible in an emergency until the professionals can take over."
Bumps and Bashes is offering two lucky M&D readers a chance to win a Gift Card each. To enter this competition, please tell us in what year did Bumps & Bashes start delivering these specialised classes?
Closing date: Monday, 16th December 2013