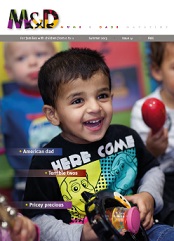 With all the usual listings for summer camps and holiday activities, with articles you'd love to read and information you can't afford to be without.
Have you considered the costs of private education from nursery to university for just one child and how it may affect your life?  Do you know how it feels to be an American dad in Britain? Are you ready to handle the "Are we there yet?" question as part of your coming holiday? For all this and much more, please browse through our website or look through the hot-off-the-press copy of M&D Magazine.
If you don't get the magazine from your school, nursery or playgroup, pick it up at the usual spots – local libraries, surgeries, Sainsbury's, Tesco, Waitrose etc.  If you are still struggling, contact us and we will be able to advise you on the nearest distribution point. And if you want a 100% hassle-free service, let us know – subscription is also available.
Have a lovely summer!