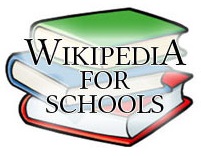 4 December 2013: A child-friendly version of Wikipedia, specially designed for use in the classroom, has been launched by children's charity SOS Children('s Villages) UK. Wikipedia for Schools is a selection of articles from the Wikipedia website organised around core school subjects.
The internet is a fantastic educational resource, but many parents and teachers are concerned about the numerous hazards young people face when browsing the web. Even Wikipedia can present difficulties at times. Because content is written and edited by users, articles are vulnerable to vandalism. And its encyclopaedic nature means that many articles are on subjects which some parents would consider unsuitable for their children. Occasionally, information is inaccurate, and the sheer volume of content makes it easy to get distracted.
SOS Children wanted to overcome this problem. As a global charity providing quality education to over 130,000 children worldwide, SOS Children wanted to turn Wikipedia into a safe environment for school-age children. Articles are checked by staff and volunteers to ensure material is suitable for children and relevant for the classroom. Any inappropriate material, from gratuitous bad language to unnecessary sexual content, is removed, while content key to children's learning is left untouched.
Safe learning for every child
Wikipedia for Schools is targeted at secondary-level students. However, the breadth of content – 6,000 articles, 50,000 images and 26 million words – makes it useful to children of all ages. It also contains a range of carefully-selected articles chosen to reflect the interests of children more broadly. Better still, teachers and parents can download it if they wish children to learn away from the dangers of the net.
"Wikipedia for Schools brings safe learning within the reach of every child," says Alistair Barry, acting CEO of SOS Children UK. "It is easy for students to navigate because articles are arranged by school subject, and teachers and parents can rest assured that children are protected from the kind of unsuitable content they might find elsewhere on the web."
SOS Children began work on Wikipedia for Schools in 2005, and the new version is the fourth edition of the project. It was originally intended as an offline learning resource for children in developing countries. The project has been immensely successful in countries such as India, Kenya and South Africa, but is also used in schools in the UK, Australia and the US.
SOURCE: SOS Children('s Villages) UK