Families of the North, prepare yourselves. Over a century after the mysterious
Lost Carnival
was last heard of, news has reached our ears that in May 2015, the carnival will reappear for a few short nights in the North of England. An ambitious, large-scale, outdoor experience from Wild Rumpus, producers of the award-winning Just So Festival, and So It Is, a new producing company established by Bury Met director David Agnew,
The Lost Carnival is an immersive theatre experience that invites families to step into a world unlike any other
.
The content of the event will remain shrouded in mystery until the audience step inside the big top, but families can expect spellbinding theatre, circus, music and visual trickery. All that has been revealed so far is that an incredible carnival, the most enchanting carnival in the world, suddenly stopped touring in its heyday, under suspicious and mysterious circumstances. The carnival is coming back, but can the families of the North help it to ward off past dangers and bring it back to its former glory?
The story behind the Lost Carnival will unfold in the months leading up to the event, in the form of a fictional radio documentary podcast produced by sleuth Arthur Bird. The first instalment was released on 18th January and three episodes has been done so far. Families can follow the story at www.thelostcarnival.org.uk and use the podcast, archive and clues to try to solve the mysteries of the carnival themselves, before the story culminates at the live event.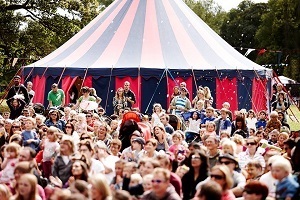 The Lost Carnival will appear in Burrs Country Park in Bury on the evenings of 22/23/24/25 May 2015. The carnival will be open from 4-9pm, with the audience entering on timed tickets. Tickets cost £10 per person (under 3s go free). Carnival goers should dress for the weather, and wear sturdy shoes. Tickets will go on sale on 20th January at www.thelostcarnival.org.uk.
Rowan Hoban, Wild Rumpus director said "we've heard whispers for many years of a Lost Carnival, and have often hoped that it might reappear in our lifetime. News that it will be in Bury in May 2015 is just wonderful. The Carnival may be in danger though, so we're asking the families of the North to keep their ears to the ground. Time is of the Essence."
To keep up to date with news of the Lost Carnival, visit www.thelostcarnival.org.uk
The Lost Carnival Competition *
Mums&Dads offers its readers a chance to win one family ticket. To enter, answer the question below:
Q: What is the name of the Lost Carnival fictional radio documentary podcast producer?
A: Rowan Hoban
B: Arthur Bird
C: Rumpus Burrs
Closing date: Monday, 11th May 2015

T&C's:
– The competition closes on 11.05.15 at midnight.
– The family ticket would be for two adults and two children. If there are additional members of the family over three they will need to purchase their tickets independently for the same time slot.
– Children under three go for free and so if competition winners are bringing children under three they will need to inform us so we can allocate them with a ticket.
– Competition winners must also specify their preferred date and time slot and we will allocate as close to this, depending on if the specific time slot is still available.
– Winner chosen at random.
– Apart from that all Lost Carnival general ticket terms and conditions apply – which can be seen here – www.wildrumpus.org.uk/terms-conditions