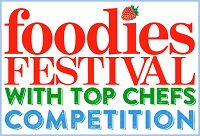 Foodies Festival brings the biggest summer feast to the North-West this July. On 17th, 18th, 19th July the festival will be celebrating its 10th Anniversary in Tatton Park – with a variety of fabulous new food and drink, entertainment for all the family and longer opening hours than ever before. Read more about Foodies-2015 here..
This year Mums&Dads has teamed up with Foodies Festival to give our readers a chance to win some tickets to Foodies Festival at Tatton Park. We have 3 sets of 5 adult day tickets to give away and children under 12 go free.
The competition is run through the widget below. You can use all the possible entry methods to increase your chance of winning. Please be aware that we will change the question from time to time. The answer can be found on our Foodies Festival pages:
Foodies Festival with Top Chefs
Foodies Festival 10th Anniversary Celebrations at Tatton park
Good luck and bon appetite!