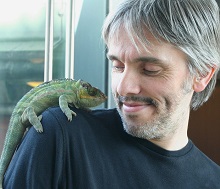 'The Boy who really, really, really, loves Lizards' is the first children's book written and illustrated by Chorlton artist John Hamilton. It was inspired by frequent trips to Manchester Museum with his son Oliver (a pupil at St John's Primary School), to see the live lizards, frogs and snakes in the Vivarium. On one visit, Andrew Gray, the curator of the Vivarium at the museum, allowed Oliver to hold the frogs and lizards and see the backrooms where the reptiles and frogs are looked after. This increased Oliver's fascination for the animals and gave John the idea for the book. Andrew liked it so much he decided he wanted the museum to publish it.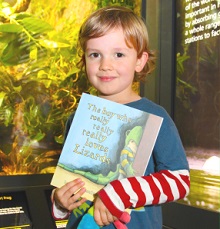 Oliver says of the book: "I think the book is amazing. It's really good that I'm in a book!'
The book has been published by Manchester Museum and launched at the end of October to coincide with the reopening of the vivarium, which has been closed for renovation. The Museum has also produced edition prints and greeting cards to sell along with the book, which are available from the Museum.
The book is currently available from the Manchester Museum, the Manchester Art Gallery and Chorlton Book Shop.
For more information about the book visit www.johnhamiltonartist.com
For more information the vivarium visit www.frogblogmanchester.com
If you are interested in lizards or books, preferably both, feel free to enter our competition. Tell us
what the name of John Hamilton's son is
and be within a chance to win a copy of the book signed by the artist.
Closing date: Monday, 13th January 2014