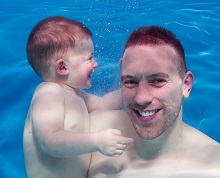 Dads don't always feel comfortable in a baby group environment, yet bonding with their baby is one of the most important things dads do. Swimming may be an exception and Aqua Babies has an abundance of dads getting involved and loving the experience.
M&D asked three AquaBaby dads some questions about their experiences of coming to classes.
Q: What made your family decide that dad rather than mum would attend swimming classes?
A:
Liam Engelke with baby Kaiden (L):
My wife and I both actively looked for swimming classes and finally found Aqua Babies. I was more personally involved with the idea as I had a traumatic experience swimming when younger and promised myself I wouldn't allow my child go through the same experience.
Mike Ryan with baby Bobby (M):
As I have always been a fan of physical activity and sport it was an easy decision that it would be me taking Bobby into the water. Sam was still on maternity leave so I really tried to capitalise and spend as much time as I could with Bobby.
Stewart Evans with daughter Ella (S):
Amanda initially started lessons as I worked Tuesdays. Then I changed my day off so I could go and watch Ella's progress and soon we decided that I should take over and have some time with Ella in the pool.
Q: How did you feel about taking your baby swimming? Do you feel comfortable in the pool?
A:
L: I feel that as a dad I should be leading by example that us "alpha males" are allowed to have fun with our babies. I'd say since becoming an aqua babies "seasoned vet" I've been comfortable. Our class has barely changed since we started; now it's like a family away from home.
M: I was excited but also apprehensive at the beginning. It's absolutely fine now. We seem to have a healthy mix of mums and dads in our class, but honestly it wouldn't bother me how the class was put together.
S: I had no reservations about going in the pool with 8 women as they all made me feel welcome and Michelle was fantastic at getting parents involved. All the parents in the class get on really well and want the best for all the children in the pool.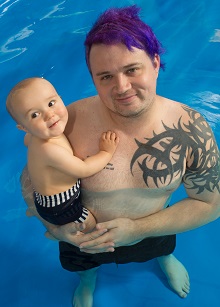 Q: What has taking your child swimming as a baby and now as a toddler given you as their dad?
A:
L: Taking Kaiden swimming from an early age has helped with our bond and he's certainly daddy's boy. Swimming with him is as much a life changing experience for me as it is for my son.
M: Firstly it has given me and Bobby the chance to have some real quality 'one on one' bonding time which means more to me than anything. It gives me peace of mind that he is actually learning a life-long skill. I also know that it will benefit his health and mine.
Q: What are the best memories of your time at class?
A:
L: My best memory is very selfish, as it was my ability to get in the water without freaking out in front of Kaiden and everyone else. My proudest moment was when Kaiden was first child to swim from his teacher to myself for a full 5 seconds.
M: I will never ever forget the first time Bobby was submerged and came up out of the water! Now he doesn't want to stay with me in between exercises any longer, he wants to jump from my knee into the pool on his own all the time. It makes me feel immensely proud.
S: Taking Ella swimming has given me lots of great memories and I have been able to see my daughter grow in confidence and see her swimming progress weekly.
Q: What advice would you give other dads who might be thinking about taking their baby to Aqua Babies classes?
A:
L: Get in there, it's great fun! Babies love it. Your bond will get stronger. Your baby will get the foundations for becoming a more independent child when they get older. Only good things can come from it.
M: Do it! I promise you will not regret it and it is worth every penny.
S: I would definitely recommend any dad to get involved in their child's swimming lessons. I really enjoy my time with Ella, we both have lots of fun and I look forward to taking Oliver swimming in November.