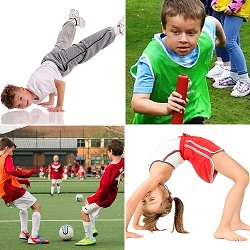 Little Sports Coaching organises multi-sport holiday courses at venues in Crewe, Wilmslow, Gorton and Cheadle.
There are three type of courses, mini soccer, with football games and and trainings, rhythmix, with gymnastic oriented activities and olympian, where children will be introduced to a wide variety of sports: football, tennis, athletics, gymnastics, tug rugby, basketball and more.
Next week, commencing 25th August, will be the final week of the school holiday courses before the children return to school. Little Sports Coaching is offering M&D readers one FREE VOUCHER for one day of that week, 9.30am to 3.30pm, at one of the four venues above. The lucky winner should be aged 4 – 12 years.
For further details please visit www.littlesportscoaching.co.uk
To enter this competition, please answer: what is the name of the company mentioned in this post that organises multi-sport holiday courses?
Closing date: Monday, 25th August 2014