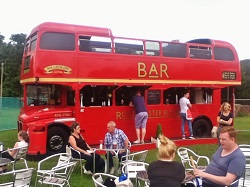 We're always on the look out for interesting days out for our little family; things that will entertain us all and help broaden our horizons. We really enjoy pottering around local farmers markets, trying new things, meeting small producers and helping to support our local economy. When we heard that the Foodies Festival was coming to Tatton Park we couldn't resist getting tickets and seeing what all the fuss was about.
The Foodies Festival is touring the UK, from Brighton to Bristol, London to Edinburgh and stopping in Cheshire on the way. The Foodies Festival is a field of foodie fabulousness; there are drinks masterclasses, a Chefs theatre featuring Michelin-starred and top chefs from all over the UK, pop-up restaurants, a children's cookery theatre, a street food avenue, a producers market and a live entertainment stage.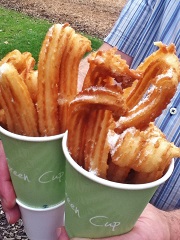 We did a few circuits of the festival, looking at all that was on offer before we decided what we'd have. We'd arrived at lunchtime and we were hungry, the smells from the barbecue and the street food stalls filled the air and made our bellies rumble.
I went for a veggie pad thai and my husband chose some flavoursome jerk chicken with rice and peas. We shared our plates with our son, who also enjoyed a cherry milkshake and some freshly cooked, still sugary-hot from the fryer, churros with melted chocolate.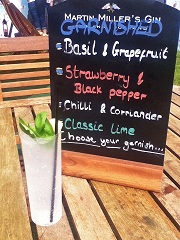 There are also so many beers, wines and spirits tents at the Foodie Festival, it's a great place to find old favourites as well as discover new and exciting new tipples. We had driven there, so we were sensible with our intake, I sampled a few different gins, but drew the line before I got tipsy.
There were a number of masterclasses and demonstrations you could book on for no extra charge. We looked at the children's cookery theatre which had a variety of sessions throughout the day where children could get hands on and try cooking Spanish nachos with salsa, Moroccan tabbouleh, a Tuscan lunch, Vietnamese spring rolls and a Japanese noodle soup. The kids masterclasses looked great (I poked my head round to have a look), they're aimed at children aged 4-11, but my son is still a bit too young to cook up a storm, next year maybe.
It was a lovely family day out; after we'd filled our bellies and seen everything there was to see we, wandered over to the giant playground and let our boy burn off some of his energy. There were lots of families there doing the same, picnic blankets heaving with produce bought from the festival. It was a lovely, lively, entertaining and interesting day out for us all.