Would you like your children to be confident and active, to make new friends and have fun? If the answer is 'yes' you should consider trying multi-sport camps run by One Goal this half-term. It is a personal development company for children that inspires them to have high aspirations.
Jamie Thompson, Holiday Camps and Events Manager explains, "One Goal has a revolutionary approach to coaching which is completely child centred. Our Multi-Sports camp has been designed specifically for technical and tactical understanding of sports in a fun, safe environment."
Multi-Sports camp gives children aged 5-12 a chance to try a variety of activities, including football, basketball, hockey and dodgeball.
All One Goal staff members work in the schools and are qualified in a multiple of sports. Also all have an enhanced CRB, FA qualified and British Gymnastic qualified.
Venues and dates:
17 th February – 21 st February
Smithy Bridge Primary School, Rochdale
17 th February – 21 st February
Boothstown Village Hall, Worsley
24th February – 28 th February
Tithe Barn Primary School, Stockport
Prices :
£69 per week. 8:45 am drop off and 4 pm pick up
£50 for 3 days. 8:45 am drop off and 4 pm pick up
£19 per day. 8:45 am drop off and 4 pm pick up
£5 additional fee for early drop off and late pick up. 8:30 am – 4:45 pm
Book Now
FREEPHONE: 0808 1414611
EMAIL: jamie@one-goal.co.uk
WEBSITE: www.onegoalholidaycamps.com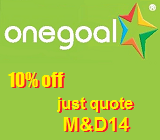 Booking forms can also be found on our website. Cheques and booking forms can be sent to Unit 1, Regal Business Centre, Gorton Rd, Gorton, M12 5BX. For late bookings, cash payments and booking forms will be accepted by the site manager, on the first day.
Special offer: One Goal would be delighted to offer M&D readers a 10% discount, just quote M&D14 when contacting us.