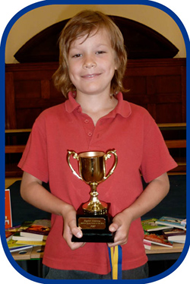 Explore Learning, which offers children inspiring maths and English tuition, is encouraging pupils to enter a story for the National Young Writers' Award 2012. The winner of the competition, which is open to young writers nationwide, will receive a trip to DisneyLand, Paris as well as a collection of books worth £500 for their school. A regional winner will also be selected and will receive an award at a prize-giving ceremony at their school.
This prestigious competition is being judged by award winning author, Andrew Cope! Entrants are required to submit a story of no more than 500 words, handwritten or typed, based on the theme 'Old and New'. The competition is open to children aged up to 14. Entries can be submitted in person to the Explore Learning centre or via the website www.explorelearning.co.uk/youngwriters. The closing date for stories is 11th June 2012.
Lucy Pelham, Centre Director of Explore Learning in Cheadle Hulme, said: "There is so much talent out there and we are really excited about reading the stories written by school kids. This is a great opportunity for young people to get creative with their writing and to see where their imaginations can take them."
For further information, writers should speak to one of the managers at Explore Learning (Metropolitan House, Station Road, Cheadle Hulme, SK8 7AZ), call 0161 669 8140.
Competition website: www.explorelearning.co.uk/youngwriters