A nursery perspective on chicken-owning journey
At the new Hale Day Nursery & Nursery School which was recently opened in Hale, Cheshire, they have a fresh 'natural' approach to childcare, which extends from nutritious home-made meals to outstanding learning opportunities. As a Grade II listed hall, surrounded by fields with the Bollin River close by, the nursery embraces outdoor learning…and has become the only nursery in Trafford to keep chickens!
Stephanie Molnar, Director of the Elmscot childcare group says, "Our aims include developing children's knowledge about where their food comes from, giving them 'hands on' experience of animal care and a chance to develop their sense of responsibility. Chickens can be very affectionate and can have very amusing characters: as well as a learning tool, we felt the chickens would become part of our nursery family too."
Stephanie, the co-owner of the three nurseries of the group, based in Hale, Altrincham and Timperley, continues, "None of us had any experience of hen-harbouring and the preparation period took much longer than we expected. Apart from the practicalities of learning where and how best to keep chickens, we needed to get to grips with the health and safety issues and aesthetic issues too. We created a separate enclosed 'Animal Zone': this protected the children; and had trees, providing natural weather protection for the birds.
We chose and installed our coop after creating a list of 'must-haves', which included a large outdoor run (as hens are not allowed to roam freely in play areas), a low external nesting box allowing children easy access to the eggs, and a light-sensitive automatic henhouse door, allowing the hens can get outside at daybreak.."
Before welcoming our new friends, we fully appraised the health and safety issues to ensure the environment and procedures were safe for young children
Next step for the staff and the children was choosing the hens.
Stephanie continues, "We decided to start with 3 birds, providing company for each other without overcrowding in the 6-bird coop. We've chosen 3 very pretty hybrid hens, a Bluebelle, Black Rock and Black Tail, who are known for being placid and 'good layers', avoiding rescued battery hens which tend to be more competitive. We also decided against a cockerel as they can be very protective of hens and we didn't want him attacking any little fingers.
We employed an experienced 'chicken keeper' to attend the premises each Saturday and Sunday when the nursery is closed, responsible for cleaning of the coop and keeping the hens fed and watered.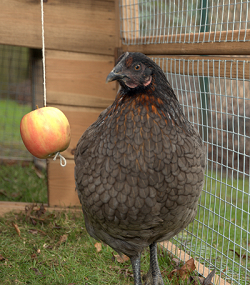 On the day our chickens arrived at their new home, Hale's pre-school children named the birds Flo, Audrey and Hetty and welcomed them by suspending an apple 'mobile' for the birds to peck at: pre-school children will be making a variety of 'toys' to keep them occupied."
Education kicked in straight away and started with a "biology lesson". Caitlin, aged 4, was surprised to notice the hen's feet looked like owl's feet (the pre-school classroom is called 'Owl' and has an owl on display). Now Hale pre-school children take turns to be Chicken Keeper for a day, feeding the chickens a treat in the afternoon (corn, or fresh vegetables from the nursery kitchen) and the child is able to take any eggs they collect home in a special mini egg-box. One parent smiles, "My little girl is very excited about the arrival of the chickens and can't wait for her turn to collect the eggs – I think you may run out!"
"Our next additions to the Animal Zone will be Guinea Pigs…!" Says Stephanie cheerfully.