Did you know that Moor Allerton School was founded back in 1914? We are delighted to be celebrating our centenary, 100 years of educating children from and around the Didsbury area.
The school had humble beginnings, a small group of boys with the Headmaster and his family (who lived in the building upstairs) with one female teacher. The school now has almost 250 boys and girls and feeds into some of the best schools in Greater Manchester. The recognisable purple blazer is still worn by pupils as it has been since its early beginnings.
The infants are still housed in the original school building, and apart from a brief time during the war when the school moved locations, we have spent the last 100 years in Didsbury. We love the fact that so many of our pupils can walk to and from school.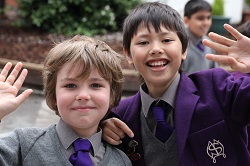 We have planned some terrific events for the academic year; we began with launching 1000 balloons on the first week back in September, to mark the start of the centenary. We have special days planned for each term highlighting Art, Fashion, Music and the school itself through the last century. There will be an old boys and current pupil's museum like tour of the school followed by an afternoon garden party, we also have a black tie ball and a fantastic gala performance at the Stockport Plaza to cap off what we hope to be a very exciting and certainly exhausting year for the children and staff!
If you attended Moor Allerton, or know someone who did, please get in touch, we would love to hear from you!
Email: office@moorallertonschool.co.uk or call: 0161 – 445 4521