(Would the calmness of St. James School suit your child?)
When you hold your precious new baby in your arms, it's hard to believe that just four short years later, you'll be helping them into a school uniform and sending them off into the big-wide world of education.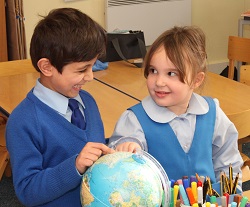 Most parents have very specific ideas about what they want for their children, an emphasis on academia, a strong musical or sporting tradition. For me, I want my son to discover and explore his own strengths, enjoy learning and do so in a nurturing environment. It was with this in mind that I visited St. James Independent School in Stockport. I'd heard some interesting things and I was keen to learn more.
I was shown around St. James by parent and Governor Vijay Patel; I was immediately struck by how peaceful, calm and well ordered the school was. We sat down in the school library and Vijay explained that he'd chosen to send his three children to St. James mainly because of the small class sizes and focussed attention from the teachers.
St. James caps their class sizes at twelve, but the biggest class at the moment has just seven pupils. With primary schools in England having an average class size of 27, having a maximum of 12 pupils in each class gives a very attractive pupil-teacher ratio, especially if like me you're looking for a school which will be able to treat each child as an individual and give them the attention they need.
Small class sizes can make a real difference to some children and are ideal for incredibly bright, academic children who need constant stimulation and attention, as well as for children who need a little bit of extra, focussed support and teacher attention to flourish and fully achieve their potential.
Vijay explained that the pupils follow the same primary curriculum you'd find in any school, though they do teach some additional, fairly unusual subjects which you're unlikely to find anywhere else, these are Sanskrit, Vedic mathematics and philosophy.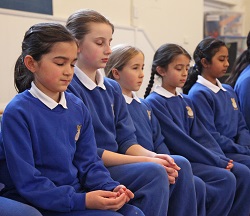 One key part of the school day is known as "pause", this is a wonderful practice which helps the children to clear their minds and prepare for their next activity. Vijay explained that pupils are encouraged to be silent and close their eyes for a minute at the start of each new lesson and before lunchtimes, allowing them to prepare and be fully focussed on the next task. It's fashionably known as "mindfulness", but it instils a sense of calm, thoughtfulness and academic focus. Vijay was very proud to tell me that their school is considered by many independent secondary schools to be "market leaders" in independent primary education. He adds that children leaving in the last few years all went to their first choice of secondary school, such as Manchester Grammar, Withington Girls' School, King's school in Macclesfield, as well as local state schools.
I poked my nose into a few classrooms and watched the children busily working; the classrooms were bright and welcoming, and the children wonderfully calm and focussed, clearly enjoying and engaging in their lessons.
I was introduced to the Headmaster, Mr Robert McNeill, whom I wanted to talk to about their bid to become a Free School. St. James are keen to open up their school to the wider community and becoming a Free School would allow them to grow and take in additional pupils, making the academic standards of an independent school more widely available.
A successful bid may mean moving the school to a larger building, but the Headmaster was keen to stress that they wouldn't be moving too far from the existing building in Heaton Norris.
The Free School bid is being put together and will be submitted to the Department for Education in September, but the school, which currently has 23 pupils, has already received over 150 expressions of support for the bid from parents and the local community. The staff and parents are understandably thrilled by the amount of support.
It's a school that isn't for everybody. There are parents who would perhaps prefer a larger, busier school. The emphasis on mindfulness might not appeal to some mums and dads, or they may struggle with the less common aspects of the curriculum. Likewise these differences will encourage other parents who can see the benefits of a smaller school and the positives in a more holistic approach to education.
Having spent the morning at St. James, I was left with a wonderful impression of a small, happy school doing exceptional things. It's a school with a distinct philosophy and ethos, backed by firm academic standards and a proven record of success for their children. It's not a school for everyone, but I think it's a school my son would be very happy in.