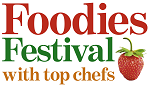 Foodies Festival with Top Chefs has a lot to offer to it's visitors this year.
Top Chefs
This year welcomes an extensive array of top chefs, including Glynn Purnell, head chef at Purnells and judge of BBC's Great British Menu, MasterChef winner Mat Follas, former Coronation Street star and cheese maker Sean Wilson and returning to 'The Street' actor Charlie Lawson of Prestbury Farm Shop.
| | | |
| --- | --- | --- |
| | | |
| Mary Ellen McTague | Sean Wilson | Glynn Purnell |
Coronation star Sean Wilson said "I am thrilled to be involved in the Foodies Festival at the beautiful Tatton Park this Summer. Being a fiercely proud Northerner it is always a pleasure to be asked to perform at a local event. I will be cooking some lovely Northern grub for all you foodie fans out there including our traditional Cheese and Onion Pie made with my very own award winning Lancashire Cheese."
The festival is also joined by BBC's Great British Menu contestant and head chef at Aumbry Mary Ellen McTague, Malaysian chef Norman Musa of Ning, David Mooney of Knutsford's Old Sessions House, MasterChef finalist Jackie Kearney, Helen and Lisa Tse of Manchester's Sweet Mandarin Restaurant, Chris O'Callaghan of Linthwaite House in the Lake District and The Yang Sing Culinary Team, all of whom will cook their signature dishes live in the Chefs' Theatre while explaining how home cooks can prepare the same dishes for friends and family.
Glynn Purnell said "I am thrilled to be invited to such a fantastic food festival over the summer months. I just hope visitors can understand my accent as I will be cooking for people outside of Birmingham! I am looking forward to 'Cracking some Yolks' and spreading the word about my first book to the lovely people of Cheshire."
What's New?
Exciting new features for 2014 include a spectacular Chocolate, Bake and Preserves Theatre, which will host top pastry chefs, chocolatiers, bakers, sugarcraft experts such as Lisa Marley of Cocoa Box and jam and preserve makers. Audience members will be invited to roll up their sleeves and lend a helping hand on stage.
A new Chocolate, Baking and Preserves Village will delight those visitors with a sweet tooth who can sample and take away products from chocolate and confectionary makers, bakers and cake makers, as well as jam and preserve makers. The Village is a haven for those who enjoy home baking, with a selection of stalls selling baking essentials and the latest gadgets.
A brand new outdoor BBQ Arena will appeal to lovers of al fresco dining. A purpose built BBQ stage will feature hourly BBQ cooking demonstrations with BBQing experts giving top tips on how to get the most from cooking outdoors. Spectators will be invited to take part in BBQ challenges; meat-eating competitions and will even learn how to make a 'BBQ cake'!
A new Chilli Food Market will excite those with a love for spicy foods with a range of chilli growers and artisan producers of sauces, sweets and jams. For those who can handle the heat a Chilli Eating Challenge takes place at 5pm daily.
The new Real Ale and Cider Farm offers an area for visitors to chill out on hay bales and strike up a conversation with our beer and cider expert Melissa Cole and fellow beer lovers. There's a guitar behind the bar for those in the mood to get a sing-along started.
A new Feasting Tent at the heart of the festival becomes the social hub, where visitors will enjoy eating with chefs, friends and family at long banqueting tables.
Another exciting addition this year is the Vintage Tea Tent that will hold daily tea dances, alongside a Vintage Kitchen Market allowing visitors to pick up beautiful pieces to add to their own kitchens at home.
Old Favourites
These new elements complement Foodies' existing features, including the popular Drinks Theatre where regular masterclasses and demonstrations are given by some of the most talented sommeliers, mixologists and drink experts in the country. Here, visitors can be some of the first people in the UK to sample new products as well as brush up on their knowledge of wine, champagne, sherry, ales and spirits with experts including TV's Charles Metcalfe, beer expert Melissa Cole and champagne expert Neil Phillips. There is also a daily cocktail making competition to find the best cocktail in the North West, judged by an audience of Foodies visitors.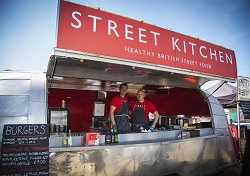 The extensive Producers' Market offers a vast array of artisan produce from the local area and incorporates the Guild of Fine Food award-winning British produce. With over 200 exhibitors, visitors will be spoilt for choice!
2012 saw the successful introduction of Street Food Avenue to all Foodies events. This year visitors can again enjoy a huge selection of award winning hot and cold food from around the world including hog roasts, exotic meats, tapas, churros, burritos, Moroccan tagines, South American prime beef, Jamaican and Thai street food.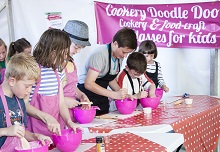 There is plenty for little foodies to do with the Children's Cookery Theatre hosting "Around the World" themed cookery classes. These workshops will help children find their taste buds and teach them basic cooking skills.
The entertainment stage features live music acts performing every day until 6pm.
Information on visiting the Festival and buying tickets could be found here:
www.foodiesfestival.com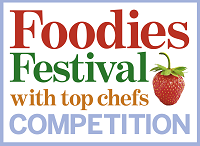 This year Mums&Dads have ten pairs of tickets to give away.
To have a chance to win the tickets to Foodies Festival at Tatton Park, please, answer the question: "What time does the Foodies Festival return to Tatton Park?"
You could find an answer and festival details on this page.
Closing date: 10th July, 2014