As is tradition at Wilmslow Prep School the Form 5 and 6 pupils delighted audiences at the end of the Summer Term with their end of year production – this year by transporting them to a dream-like world of fairies, lovers and kings.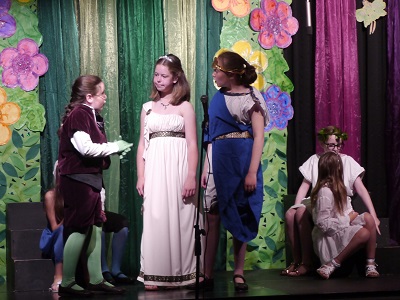 Shakespeare's 'A Midsummer Night's Dream' is full of twists and turns. Hermia loves Lysander and Helena loves Demetrius, but Hermia is supposed to be marrying Demetrius… The story quickly dissolves into a hilarious muddle of confusion and blunders when the couples take refuge in the woods to escape the enforced marriage and wander into the midst of a dispute between the king and queen of the fairies.
The girls captivated everyone as they rose to the challenge of staging a Shakespeare play, and their performances left their adoring audiences in stitches.
Speaking about the production, Headmaster, Paul Reynolds said, "The end of term play is a much-anticipated end of year treat for pupils and parents alike and this year's production didn't disappoint!"
Read more in the school's newsletter.