I have been in practice as an osteopath for 29 years now and over this time have seen many babies! Mums tend to bring them in for all sorts of reasons; often if I've treated the mum through her pregnancy it is just for an 'MOT' or check, particularly if it's been a difficult, long or fast labour. Other times it is because the baby isn't sleeping well, is generally irritable, or suffering from colic or reflux. Osteopathy can often relieve these symptoms by simply helping their bodies balance and relax.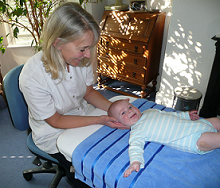 Since the 'Back to Sleep' campaign, which advises parents to place their babies on their back to sleep, came into force I have also seen an increasing number of babies with "flat" or misshapen heads.
Obviously the campaign has had a very significant effect on the rate of cot deaths and putting babies to sleep on their backs is important. However, it seems as though outside of sleeping we need to try and minimise the time that babies are on their backs to avoid "flat" heads. I tend to recommend several things to mums to make sure their babies aren't lying with the pressure just on one part of their heads: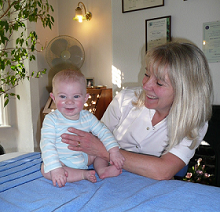 1. Supervised tummy time – letting babies play lying on their tummies as much as possible, whether this is on a play mat or lying on your knee.
2. Minimise time in car seats and bouncy chairs.
3. If they are on their backs ensure they have stimulating things to look at on each side, so they turn their head frequently.
4. Alternate the arm or hip you carry your baby on.
5. Aim to vary feeding positions as much as possible. If breast feeding, use both sides equally. When bottle feeding try to have the baby in both arms equally.
If you manage to do these things early on there is a much better chance of less flattening.
If worried, always seek professional advice, especially if the flattening is associated with any behavioural or feeding difficulties.
_______________________________________________________
For an advice from an osteopath feel free to contact Jo or one of her colleagues from Bramhall Osteopathic Practice, 57 Woodford Road, Bramhall, SK7 1JR
Tel: 0161 440 0298
www.bramhallosteopaths.co.uk