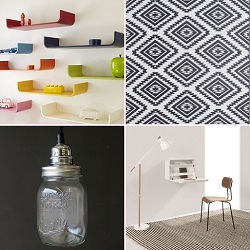 It's that time of year again when we start to open our home up to the outside. In my, somewhat compact, house it's a god send to be able to expand out into the garden (particularly with two boisterous boys and one giddy dog!). Some of us are lucky enough to have summer houses or garden buildings which are a fabulous way of making the most of your space, whether it be an office, den for the kids or simply a place to sit and relax. For those of us that either already have or are thinking of investing in one then here are a few tips on how to make the most of it.

Firstly don't hold back! Treat this as you would any room in your house. To create a lovely interior you need to ensure you get the right colour scheme. Keep the ceiling and walls light to create an airy spacious feel but don't be afraid to add a bold colour on one wall. For the flooring the most practical solution will be a hard floor but with a bright rug to add a pop of colour and pattern. These indoor/outdoor rugs by FabHab and available from Wayfair.co.uk are the perfect solution and I like the fact they are made from recycled plastic straws!
Image: "Valencia Gray" Rug from FabHabitat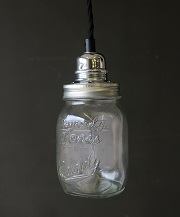 If your outdoor room is connected to the mains then don't forget your lighting, this is a really great way to make the area feel welcoming as the evening draws in. These Mason Jar lights from Rocket St George would add just the right amount of vintage style and soft lighting.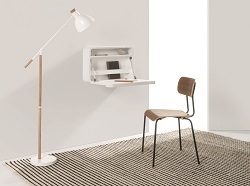 When looking at furniture space is likely to be a key consideration. Where possible think wall mounted drop down tables/desks and bench style seats with underneath storage. These retro style wall mounted desks from made.com are a fabulous practical solution and so stylish too!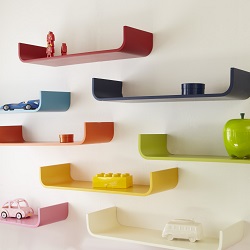 If you are thinking of creating a den for the kids, then what a perfect spot for their craft activities to take place! Wall mounted storage is a neat and cheerful solution (shelves from aspace.co.uk) and painting one wall with some blackboard paint gives them the freedom to get creative with no chalk dust indoors!

Finally don't forget to accessories; throws, pictures, candles and cushions are all vital to creating a beautiful interior.
At nest we work on a variety of projects, as we charge by the hour you can enjoy exactly the right amount of input from us. We can both recommend all relevant contractors and work with you to ensure your new space is tailored to your requirements. Just get in touch for an initial chat and quote M&D Spring for 10% off initial consultation fees.
enquiries@nestinteriordesign.co.uk | 0161 414 0032 | www.nestinteriordesign.co.uk