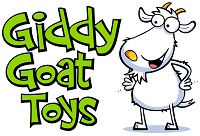 I'm sorry; someone has to say it, if you're easily offended look away now. I'm going to mention the C word. Christmas. Sorry, I did warn you.
I'm a busy working Mum and as each year passes I've started to dread doing the Christmas shopping, especially as our extended family just seems to keep growing. New babies and growing children are adorable and lovely, but it's another little person to figure out what to ask Santa for.
Living in Didsbury, I am a keen supporter of my local high street and do my best to shun supermarkets. It can be hard sometimes, especially as Christmas approaches and it's really tempting to just go to a huge megastore and heap everything into a trolley and have done with it. I used to do that, but the last few years, I've preferred to spend my money locally in the knowledge that I'm helping to provide local jobs and support businesses in my community.
Did you know that for every £100 spent in local independent shops around £48 is ploughed back into your community, whereas for huge supermarkets and the like, it's only £13.
Also, and this is the best bit, you get the most fantastic service from small businesses. I love Giddy Goat Toys for their service. I go in, explain what I want and they present me with options, all of them brilliant quality and well priced. So I popped into Giddy Goat Toys in Didsbury for a chat with owner Amanda and have a look at some of the toys she thinks will be popular this year.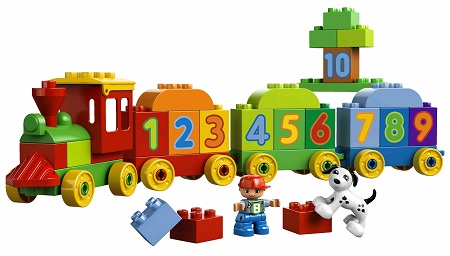 First she showed me the multi-award winning (Best Toy Design Winner 2013) Lego Duplo Numbers Train. Perfect for my train-mad toddler and just chunky enough for his little fingers to cope with. It will help develop his maths and construction skills, as well as indulging his love for all things choo-choo. Suitable for ages 2-5 and keenly priced at £13.99 this is sure to be a runaway hit for the little engine driver in your life.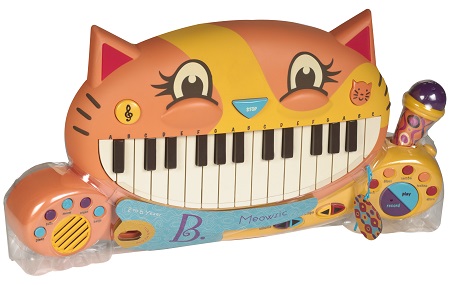 For mini musical maestros there is the quirky and fun Meowsic Music Set. A cool cat keyboard which plays witty kitty tunes with tempo and funky beat control. It's got a built in retractable microphone which amplifies the child's voice. This is such a fun present to give someone, even the adults will love its quirkiness. The Meowsic Music Set will definitely get the kids rocking around the Christmas tree.
Boys and girls alike love scooters, they are so much fun. They are perennially popular presents and Amanda explained to me that scooters were one of her top selling items. Their stylish and robust Swiss design means they are arguably the best scooter on the market, they are available from Giddy Goat Toys in a range of colours and two sizes – mini scooters and maxi scooters. This will be going on my Christmas list for my super-duper scooter loving nephew.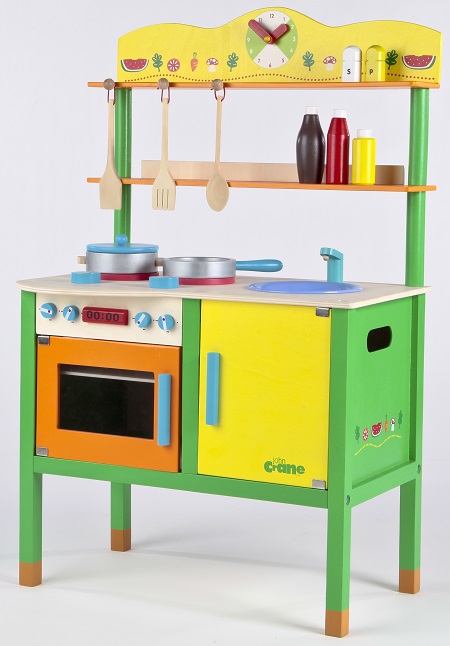 Last Christmas, Santa brought our son a Petite Cuisine Wooden Kitchen. He loves it and has had hours and hours of fun with it. If he's not cooking up a storm, he's using the oven as dinosaur storage. Granted not its intended purpose, but he's still using it for imaginative play and you can't knock that.
It was great to see Giddy Goat Toys are still stocking this cracking wooden kitchen set. It's brightly coloured, sturdy and attractive. It's got everything a modern kitchen needs, oven, hob, sink, a cupboard and some shelves to store your ingredients with knobs to hang your utensils from. It also features a clock on the backboard with moving hands. For such a quality wooden kitchen I was impressed that it is so competitively priced at £85 and it includes some useful accessories; two pans, a wooden spoon, a fork and a spatula, 3 condiments bottles as well as salt and pepper.
Giddy Goat Toys is also a great place to pick up some stocking fillers. They have a brilliant range of quality goodies to stuff in a stocking, again keenly priced to suit all budgets. From little wooden toy trucks and robots; bubbles and bits; to a super selection of art and craft items, there is something for everyone.
So for fantastic customer service, quality toys at pocket friendly prices I can't recommend Giddy Goat Toys enough. They've just launched a new website -www.giddygoattoys.co.uk too, so if you can't get to the shop for a mooch you can have a browse online.
Giddy Goat being ever helpful offer a click and collect service as well as offering gift wrapping and delivery to anywhere in the UK by approved couriers. Don't forget to sign up for their newsletter too and you'll get to hear of their special offers and events.
I urge you to join me in the Shop Local revolution, support your local high street this Christmas, help keep your local elves busy!
For all your Christmas presents and toys for any occasion call 0161 445 1097, check
www.giddygoattoys.co.uk
or visit Giddy Goat on Albert Street, Didsbury.