It's that time of year again. You are either super organised, with your Christmas shopping complete, semi organised with lists and plans, or like me, in denial! No matter who you are, whether defiantly holding off or all wrapped and ready to go, you will at some point be thinking about Christmas and amongst other things 'What to buy?'
Buying a gift for someone's house can be very tricky to get right. You don't want them to feel you are criticising their house by suggesting they replace a cushion or lamp, nor do you want to impose your own style and taste on someone else. Our homes are very personal to us. Whilst you may love an item, will someone else? The last thing you want is your gift being consigned to the attic only to be brought out and polished off when you visit, or worse still, consigned to the dogs' bed, where I once spotted a cushion my mum had purchased for her sister!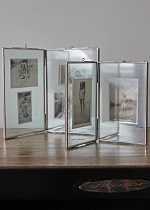 All is not lost though, there are certain things that you just can't go wrong with and here are some ideas to suit everyone's taste and budget.
Picture this…
A beautiful picture frame, something we rarely splash out on yet always need. How about these stylish frames from www.rockettstgeorge.co.uk, ideal for odd shaped photos that won't fit into conventional frames and starting from just £9.95. These gifts work well for family and friends alike.
Throw some light on the proceedings….
It's difficult to go wrong with a pretty candle holder, especially at this time of year when everyone wants a bit of extra sparkle in their life.
What about these fun 'duck feet' candle holders? I think we all know someone with a quirky sense of humour who would cherish these lovelies! £17 www.rockettstgeorge.co.uk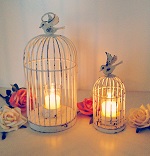 Alternatively this birdcage candle holders, from £14.95 www.notonthehighstreet.com are striking and pretty, the perfect gift for an aunt or sister.
Show it off in style….
How about these beautiful 'rainbow vases' from www.grahamandgreen.co.uk, at just £10.95 each these strike the perfect balance between practical and decorative. What home wouldn't be brightened up by these?
Or for something a bit more quirky try these lightbulb vases £12.95 from www.notonthehighstreet.com
Spell it out…..
These vintage style painted letter hooks would make the perfect gift for the organised family, a place for everyone's coat, or you can spell out a word like HOME, £15 each from www.notonthehighstreet.com
Running late…..
For a unique and very special present how about this 'café de la gare' clock £59 from www.grahamandgreen.co.uk this is a beautiful piece that would look stunning in both a contemporary or rustic setting.
Or maybe the gift of 'interior design' itself? Perfect for new home owners, in-laws, busy over worked friends, new parents or of course your other half!
At nest we have launched our 'nest by post' gift cards. For £75 the recipient will get a room of their choice designed via an online pinbaord. So be it a nursery, home office, lounge or hallway we can help revamp and rejuvenate! In fact why not treat yourself too!