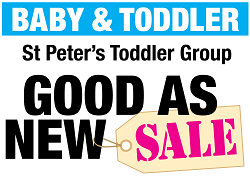 A Hale toddler group will shortly be holding a 'Good As New Sale' in order to raise money for the Wood Street Mission.
The St. Peter's Toddler Group meets most mornings during the week at St. Peter's Assembly Rooms on Cecil Road in Hale and gives little ones the opportunity to get together with other children, play games and take part in activities.
It's chosen charity, Wood Street Mission, helps thousands of local Manchester children and families by providing them with the things that they need, such as clothing, bedding, toys, books, baby equipment and school uniforms. Wood Street has a long history of supporting impoverished families around Manchester and Salford. Their message is still the same as it was over 140 years ago: to alleviate the effects of poverty on children and their families by offering essential items free of charge to ensure that no child goes without, whilst giving disadvantaged families the chance to help themselves out of poverty.
The toddler group is hoping for the sale to be a big success this year and to raise as much money as possible for the Wood Street Mission. Kelly Jones, a member of the St. Peter's toddler group, explains "We would like to encourage people to think about selling or buying pre-loved, good quality baby and children's clothes, toys and equipment. The Wood Street Mission is such a wonderful local charity that we should all be looking to support it if we can. As a seller you will receive 75% of your sales and the remaining 25% is donated to the Wood Street Mission. As a buyer you will be able to pick up a lot of good quality items at bargain prices!"
The sale is being held at St. Peter's Assembly Rooms at 136 Cecil Road, Hale WA15 9NU from 10-12pm on Saturday 25th April. It is "cash only" at the sale, admission fees: £1 . If you are interested in buying, you are advised to arrive early to get your place in the queue! For details of how to sell, please email GANStPeters@hotmail.co.uk or call 07437 836747 by 21st April.