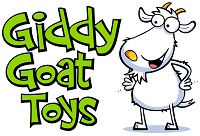 The last few years have been tough on the high street with retailers and small businesses really struggling. In South Manchester, we are lucky enough to have a brilliant range of small, independent retailers on our doorstep, but just how are they fairing in the current climate? Jane Arschavir visited Giddy Goat Toys owner Amanda Alexander for a chat about how Didsbury's favourite toy shop was getting on.
Amanda opened Giddy Goat Toys in September 2012 and quickly set about filling her shelves with traditional and quirky toys and games from around the world, including brands such as Djeco, Big Jigs, Orchard Toys and Lego.
"We're so lucky that we have a loyal customer base in Didsbury who are keen to support their local independent shops," says Amanda. "We did have a really good Christmas, though times are still tough and lots of local businesses are still struggling. I won't be buying a yacht this year!" she jokes.
Amanda is excited about what 2014 holds for Giddy Goat Toys. Fresh from attending the Toy Fair in Birmingham in February, she is giddy about some of the new toys and games she found there and she also managed to source some brand new, exciting products for the shop. "We love stocking unusual, hard to find and beautiful things. I've ordered a gorgeous range of craft items from German company Depesche, as well as brand new items from English companies Orchard Toys and Marbel," she says.
Ever mindful of the fact that people's pockets aren't bottomless, Amanda prides herself on stocking an excellent selection of toys to suit all budgets. In particular, the extensive selection of birthday party presents for under £12 is a huge hit. She has recently extended the range to help birthday party planners too; due to demand she now stocks party bags and has extended her range of party bag fillers. These also make brilliant pocket money purchases too.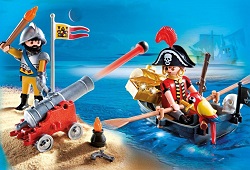 I asked Amanda what new and exciting things we'll find in Giddy Goat this spring. "Playmobil carry cases," she says enthusiastically, "these flew off the shelves last year and are brilliant for holidays or weekends away. Playmobil have extended their range of carry cases which cost just £11.99, our customers love them and they're so practical. We'll also be stocking more Lego than ever before, but we'll be keeping most of what we stock at a more pocket-friendly £15 or less". Though I'm pleased to see they still have the ultimate Lego set – the Star War Millennium Falcon.
Giddy Goat Toys stocks an exquisite selection of children's art and craft materials from great brands such as Galt and Djeco. Amanda is thrilled that this spring she will be able to offer the Top Model art, craft and design sets from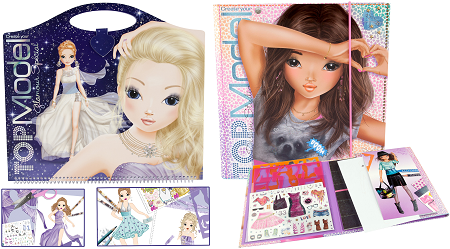 Depesche. "These are aimed at budding fashionistas wanting to design clothes for the catwalks of New York, Paris and Manchester," she says, "starting from just £3 these products really are innovative and exciting". She showed me some of the products in the Top Model range and she's not wrong. I know plenty of adults, let alone children, who'd love to get their hands on them. The shading pencils alone would be a fantastic addition to any art-lovers kit.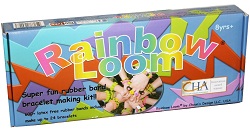 Adding to her already extensive selection of art and craft materials, Amanda couldn't resist the Rainbow Loom friendship bracelet making kits which are easy, affordable and fun.
She was also very impressed with the Lottie Dolls they had at the fair. Launched in August 2012 as a more realistic, childlike alternative to Barbie; Lottie has won awards all over the world and is fun, educational and affordable. Lottie is modelled on the proportions of a 9 year old child and she doesn't wear jewellery, makeup or high heels, and she stands on her own two feet.
Finally, pulling the (cuddly) cat out of the bag, Amanda gave me a sneak preview of the brand-spanking-new range of beautifully soft toys from Manhattan Toys. They are super-soft, adorable and absolutely the perfect, snuggly gift for newborns, or bigger kids, like me.
Giddy Goat Toys have always stocked a selection of larger traditional toys, including play kitchens, castles, dolls houses and garages; as well as seemingly the most popular form of kids transport in South Manchester, the scooter. "These kinds of toys will never go out of fashion and we always strive to stock robustly made wooden toys," says Amanda, "and the scooters just seem to wheel themselves out of the door".
With their shelves fully stocked for 2014 and with 18 months trading under her belt, Amanda is hopeful that independent shops like hers will survive and continue to help make South Manchester an interesting and vibrant place to shop. Her lovely team pride themselves on personable and bend-over-backwards customer service. With the mixture of traditional, quirky, unusual toys, games and craft products in Giddy Goat Toys, there is something to suit all pockets and developing personalities.