According to the NHS website, "every year in the UK, thousands of people die or are seriously injured in accidents. Many of these deaths could be prevented if first aid is given at the scene of the accident before emergency services arrive."
Jo-Anne Moore, founder of First Aid Training Stockport, knows only too well what this means in practice.
"Whilst being a trainer I have come across families who have had their hearts ripped out – choking baby, car crashed with 1 year old in it, a toddler falling downstairs… I had people emailing me saying that they had not talked about it until the course. Most of those people felt lost, helpless when the accident occurred, they just didn't know what to do. I really believe that it is worth making an effort to find out, before something terrible happens."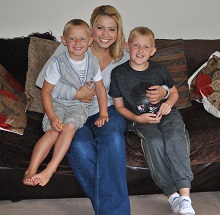 Paula Jones, a child minder from Trafford, was, like most of us, doing it 'just in case' when she asked Jo-Anne for a First Aid session. The session was run at home with Paula's sons Joseph, 10, and Hayden, 4, also present. Who would have thought that the skills gained at this session were going to prove lifesaving in only one week's time?
It happened during the dinner, with a few children around the table. As unpredictable as all accidents are – one minute everybody was eating and chatting happily, next, seven year old Shaun was coughing and struggling for breath. He was choking on a meatball.
Paula remembers: "I heard Shaun choking and turned to react but Joseph was already there. He calmly leaned over and gave his friend a back slap – three slaps and the food flew out. I couldn't believe it really. He knew straight away what to do, it was amazing. I am so proud of him."
Jo-Anne said: "While I was training Paula through my company I just showed the boys a few things too. I am very glad that I did. I feel that all children should learn First Aid."
Jo-Anne practices what she preaches. Her First Aid training is aimed at children as much as adults. So far more than 1000 children have been trained by the company. She works with schools and nurseries, families and individuals, parents and grandparents. For £20 per person you can have training session together with your friends in the comfort and privacy of your own home.
If you are interested in First Aid training contact Jo-Anne on 07808 034 858 or through the website: www.firstaidtrainingstockport.co.uk