Two young aspiring artists from Alderley Edge School for Girls are to have their paintings displayed at the Royal Academy of Arts in London after winning an annual painting competition run by development organisation, Sightsavers.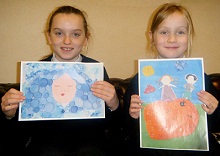 Alexandria McLelland in Year 1 and Liberty MacLeod in Year 6 were picked as regional winners in the infants and juniors categories for their paintings using this years' theme i:dream. Both girls paintings were selected from over two thousands of entries by a judging panel for their use of colour, texture, expression and imagination.
The competition, run in partnership with the Royal Academy Schools, aims to promote the use of paint in school classrooms, whilst encouraging children to explore their senses and reflect on sight and blindness.
Eileen Cooper RA, the Royal Academy's new Keeper commented: "I have been very moved by all the amazing entries from children across the country, it has been great to see young artists embracing painting with such enthusiasm. From paintings of rainbows to mysterious mountains, we have seen an imaginative interpretation of the i:dream theme".
Mrs Claire Ash, Year 2 teacher at the school commented, "I was very impressed by the variety of ideas and artwork that the girls produced, they put so much thought and expression into their designs. We are delighted to hear that Alexandria and Liberty have done so well and that we were able to participate in a project in aid of a wonderful cause".
The Sightsavers i:dream exhibition will be open daily in the Café Gallery at the Royal Academy of Arts until 21 November and entrance is free. All the winning paintings can be viewed online at www.sightsavers.org/juniorpainter2012 (to view the winning paintings select online gallery link).